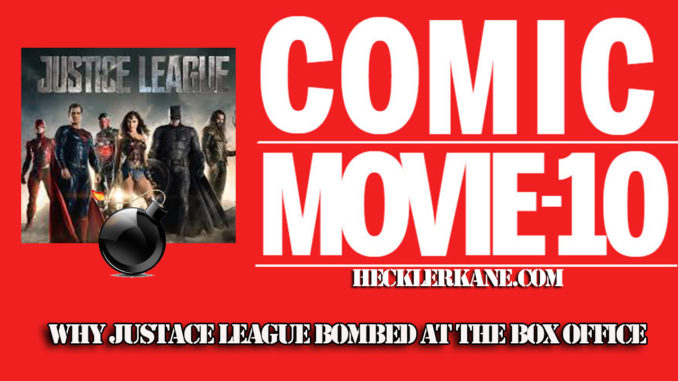 This week, on Comic Movie-10, Joe and Dan Kane discuss the most recent DC comic movie Justice League, which is widely regarded as a flop at the box office. During this podcast, the brothers give their possible explanations for why this movie bombed in its nearly three-month run and why DC movies, in general, have paled in comparison to the recent Marvel films.
Both Joe and Dan agree that DC has released some incredible movies, including Tim Burton's version of Batman, and the most recent Batman franchise, The Dark Knight. However, it is noticeably obvious that since the conclusion of The Dark Knight trilogy, DC has failed to present the same excitement to their audiences. Justice League is just another example of the many DC movies that have not been well received.
One theory explored in this episode is that unlike DC, Marvel films have managed to become completely connected. The brothers point out how DC films feel disjointed from one another, as their characters and their worlds never collide. The belief here is that DC films are bound to fail when compared to Marvel films. This is because viewers enjoy the consistency between Marvel movies, which allow them to track their favorite comic book characters from one movie to the next, or even one television series to the next.
Another theory that is contemplated is the fact that Justice League had two separate directors. Zack Snyder began directing the film, however he left half way through, citing personal reasons. Joss Whedon then replaced Snyder. Although both directors are talented and well respected, each man has his own style and this could have certainly contributed to the feelings of disjunction in the movie.
Lastly, Joe and Dan explore their feelings toward the introduction of new characters, and the absence of classic comic book characters that have long been fan favorites. They discuss how this may not be a major issue for those who are not true fans of the old school comics, but how regardless, the new characters' lack of depth leads to a dull presentation.
The Kane brothers are interested in hearing your opinions on the movie and their theories, along with your own. After watching, be sure to leave your comments, opinions, and questions, and as always, make sure to tune in to the next episode of Comic Movie-10.