About Heckler Kane Creations
Heckler Kane Creations is an independent film production company that was formed in 2010 by Joe Kane and Wayne Heckler and Dan Kane.
Heckler Kane Creations works tirelessly on a multitude of projects, including short films, full-length features, television shows, and music videos. The project scope includes everything from script writing, directing, editing and distribution.
The partners of Heckler Kane share a common vision for their company. The team has a vision to create a legacy of work that will inspire others and evoke emotions. The partners excel in producing original work and hope to form relationships with other imaginative thinkers in the industry.
With the plethora of production companies around the world, Heckler Kane stands out among the crowd. The unique qualities of the company emerge thanks to the undeniable chemistry and comradery among the members of the dedicated and passionate team. The drive to create authentic work makes them a consistently evolving company, able to match and challenge the climate of a quickly changing industry.
Getting to Know the Partners: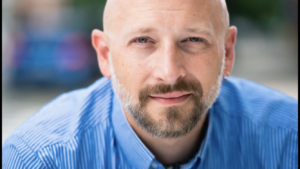 Joe Kane: Director, Writer, Actor, Producer & Editor
Joe is a natural born musician, who began playing instruments while he was still in the single digits of his life. He has performed in countless bands as a guitar, piano, bass, and drum player. Some of his idols include Eric Clapton, Quentin Tarantino, Tim Burton, and Dan Aykroyd.
Joe earned his Bachelors degree in Music Education and a Masters in Music Composition. He has also directed countless numbers of plays and musicals through the years. As one of the original partners of Heckler Kane, Joe has immersed himself in the company. Spending endless hours, Joe is busy perfecting the work the company produces. A jack-of-all-trades, Joe has taken on many roles in the company. His most prominent roles are that of a director, writer, producer and editor. Joe is also a co-host for the The Imperfect Podcast.
Known among the partners as a creative personality, Joe's whimsical visions push the limits of the work they are able to create. Joe has proven himself to be a forward thinker by creating new story lines and concepts that are entertaining and unique. Joe is constantly pushing boundaries and exciting his partners to complete projects essential for the companies growth.
Follow Joe on Instagram @imperfectJoe
Follow Joe on Twitter @ImperfectJoe
Wayne Heckler: Actor, Editor & Director
Wayne has had a life long interest in the arts, with his love for film originating from his attraction to words and their affects on society. At a young age, Wayne found himself immersed in poetry and admiring the work of musicians like Jim Morrison of The Doors. The meaningful words artists use to express themselves are what attract him to specific types of music. This is why he also admires the French writer Gustave Flaubert, who believed every piece included in art should have a purpose. Wayne lives and creates by these ideals, which is why he is such a calculated artist. He is certainly an "out-of-the-box" thinker. His eccentric visions help create projects that are authentic and unlike anything else being created.
Wayne has degrees in music and he has been involved in directing theater for over a decade. He is a musician who can play many instruments, however he has really focused on becoming a classically trained pianist. Some of Wayne's most significant work have been his acting and directing even though he has worn many hats as a partner in the company. In addition Wayne has a larger than life personality, whose positive attitude and comedy breathes life into the company.
Follow Wayne on Twitter @wayne_heckler
Dan Kane: Writer, Actor & Producer
As a former college athlete, Dan understands the importance of discipline and hard work. His time off of the basketball court was spent focusing on American Studies, giving him insight into real life events and how they have shaped the world we live. Dan brings realistic perspectives to the company's projects. Dan also has a background in music as a drummer. As Joe's younger brother, Dan has been an integral part of Heckler Kane from the very beginning. Acting as a confident for his older brother to bring forth his creative visions.
By 2013, Dan took a much more active role in the company during the production of the short film "Bad Luck Charley". Since then, Dan has become a significant part of the team with his creative writing skills. On set Dan handles many responsibilities, including sound, acting, and co hosting the weekly podcast. Dan admires individuals such as Martin Scorsese, Robert DeNiro, Al Pacino, and Frances Ford Coppola.
Dan's partners describe him as the quiet intellect of the group, with impeccable comedic timing. Although he may be quite, he is constantly analyzing situations. Bringing thought out and concise visions to the table, Dan's opinions are highly regarded.
Social Media