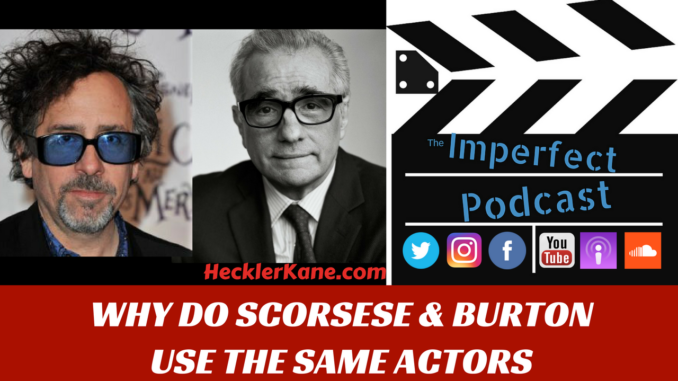 On this week's Imperfect Podcast, we discuss the films of Martin Scorcese and Tim Burton. We focus on the common thread of actors each director hires for most of their films. Scorcese tends to favor Harvey Keitel, Robert DeNiro, Joe Pesci, and Leonardo DiCaprio, while Burton tends to favor Johnny Depp.
We also discuss the style of music each director favors, such as Scorcese's use of rock and roll music, specifically the Rolling Stones and Burton's use of the eerie scores of Danny Elfman. We chronicle each director's films, from their first feature to their new releases.
Scorcese is releasing several films in 2017, two of which he directed; Sinatra and Silence. Burton is set to release Alice Through the Looking Glass later this month and has also agreed to create a live action Dumbo for Disney, with a release date sometime in 2017. The long awaited BEETLEJUICE 2 remains a possibility, but not anytime soon.
Download the Scorsese & Burton Discussion:

Watch the entire Scorsese & Burton Discussion on YouTube
Us creative types can be really insecure and we need to know you care. Please Take some time to show us how much we mean to you. If you like what you see hit us up at Twitter, check out our behind the scenes at Instagram, and our YouTube is the best place to find all of our videos. If you don't like what you see, mamma always said if you cant say something nice…