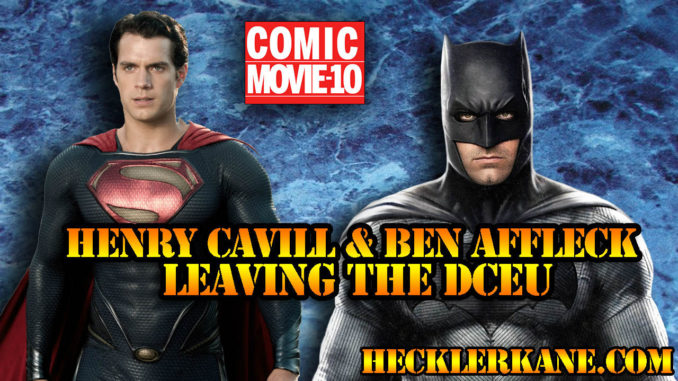 On this episode of Comic Movie-10, the Kane brothers discuss the recent news about Henry Cavill and Ben Affleck leavening the DCEU. These two are currently playing Superman and Batman respectively. Joe and Dan recall growing up with these beloved characters and vent some frustrations with the recent portrayals in the current run of movies such as Superman "Man Of Steel", "Batman V Superman" and The Justice League".
Pointing out many highlights from the franchise so far, they go on to site the success of the Wonder Woman movie. Although some of the other films that are in the DCEU have not had the box office power that that film did by no means were any of them flops.
There are also many movies to come from DC such as Wonder Woman 84, A Flash movie and this December the Aquaman Movie. Keeping the train rolling for the universe are there any signs of a total reboot. One option that was talked about was just plainly starting over. The downside to that was losing actors that have already proven themselves in the films. Joe and Dan site how Gal Gadot and Jason Mamoa have knocked it out of the park and they can't wait to see more from them. Rebooting the series would be a giant mistake to lose the rest of the characters. They do say that they look forward to seeing more of Ezra Millers Flash.
There rumors of the departure originate from several different places. First is that Ben Affleck has become a liability to the studio due to him reentering rehab for the third time. Henry Cavill posted a video on his Instagram showing him raising up and lowering a Superman doll to the tune of "Blue Danube" performed by barking dogs. "In our opinions neither of these things should warrant a rumor of them leaving, what is this middle school?"
The brothers discuss the possible additions to the Justice League that could possibly save the run such as Green Lantern, Martian Man Hunter and the Green Arrow. The Curiosity is if they add other characters would this keep the franchise running.
Do you have a possible solution for Warner Brothers? What are your thoughts on the possible departures of the actors from the series? Leave your comments, questions, and opinions, and as always, tune in to the next episode of Comic Movie-10!