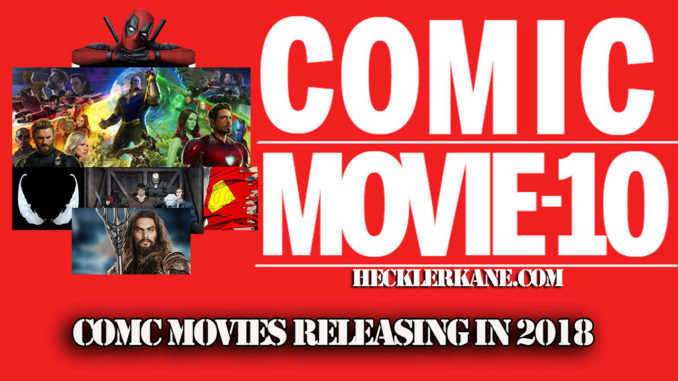 This episode of Comic Movie-10 is especially exhilarating as Joe and Dan discuss all of the comic book related movies set to be released this year. Apparently 2018 is a busy year for comics in the movie world, and it is difficult to say which movie is the most exciting or anticipated.
As previously discussed in another episode of Comic Movie-10, the most recent movie about Venom is set to premier October 5th with Tom Hardy as Venom. There are also rumors surrounding the idea of a cameo from Tom Holland as Peter Parker/ Spider-Man. Moving along, Marvel plans to release the highly anticipated Infinity War on April 27th, which is already expected to have a sequel. This movie is incredibly interesting as it has nearly all fan-favorites from the Marvel world together. One character that will be seen is Thanos, played by Josh Brolin. Ironically, Brolin is also playing Cable in the untitled Deadpool sequel, staring Ryan Reynolds, also set to enter the box office this year.
Moving along, Ant-Man and The Wasp staring Paul Rudd, Evangeline Lilly, and Michael Douglas is underway, along with Spider-Man Into the Spider-Verse, which takes the less familiar route of using the character Miles Morales as Spider-Man. Set to premier in November is Dark Phoenix, the story of Jean Grey, which will also include Jennifer Lawrence as Raven, and in December fans will see the latest Aquaman movie, staring Jason Momoa. In addition, two new cartoon movies are slated to be released on Netflix this year. These are Death of Superman, and Suicide Squad- Hell to Pay. Unfortunately neither has a definite release date, but both are expected to stay true to the roots of the original comics.
With so many exciting comic movies set to be released this year, make sure you watch this episode of the Comic Movie-10 podcast so you do not miss any that might spark your interest. Joe and Dan would love to hear which movies you are most excited about, and if you have heard of any more movies coming out this year related to comics. Leave your opinions, comments, and questions after watching, and be sure to tune in to the next episode of Comic Movie-10.