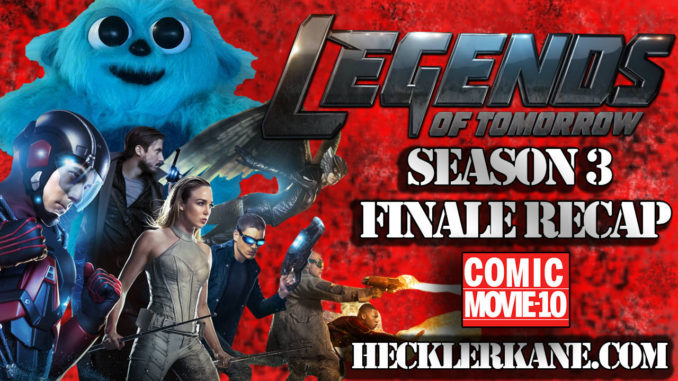 On this episode of Comic Movie-10, the Kane brothers will discuss the season three finale of DC's Legends of Tomorrow, titled "The Good, The Bad, and The Cuddly". The boys explain how the beginning of the finale was extremely emotional as Rip Hunter's character sacrifices himself for the others, so they would be able to escape to salvation. Upon doing this however, they run into many of the villains they have fought throughout the season, which obviously causes conflicts for them. It is not until Sara's character cracks a joke that the tone of the finale causes viewers to feel the more comical mood expected from Legends of Tomorrow.
The topic of Damien Darhk is also discussed. Joe and Dan explain how his path over the last few episodes has allowed viewers to see Darhk in a different light, and many of the people watching from home actually feel empathy toward his character. They discuss how his character's choices in the finale will potentially impact the series moving forward into the fourth season.
Another character that is a major focal point of the finale is Beebo, and the brothers tackle their emotions regarding the choice to bring this character into the show, especially considering Beebo is not an original character from the comics. Lastly, Joe and Dan share their opinions on Constantine officially joining the cast as a regular character and how he has been able to stay true to himself, even in the silly world of Legends.
Let the brothers know your own thoughts on the season finale. After watching, decide if you agree or disagree with the information they have shared. Leave your comments, questions, and opinions below, and be sure to tune in next time to see the latest episode of Comic Movie-10!