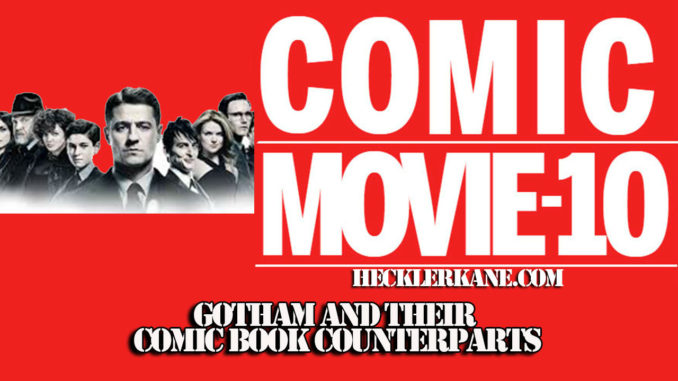 This episode of Comic Movie-10 is all about the hit show, Gotham. More specifically however, the Kane brothers will be exploring the differences and similarities between the characters in the show, and their characters' origins in the comics.
The brothers discuss how both Ben McKenzie as Commissioner Gordon and Sean Pertwee as Alfred, take on an entirely new role when compared to their comic book counterparts. Both characters have been traditionally thought of as goody two shoes, however their characters in Gotham are much more dark and mysterious. Joe and Dan discuss their opinions on this and whether this change works or not.
Additionally, they explore the character Bruce Wayne, and how his attitude as a "billionaire brat" is unlike any version of Bruce Wayne the world has ever known. In fact, much of Bruce Wayne's early life is a mystery to Batman fans, other than the comics showing that he watched his parents being murdered. Gotham explores what happened to Bruce during his years of adolescence and how he was not necessarily always calm, cool, and collected. David Mazouz plays Bruce Wayne in the series and is doing an extraordinary job, but managing to portray an irritating version of the beloved Bruce Wayne at the same time.
Finally, the Kane brothers examine the villains on the show, with the three most prominent being, Edward Nygma, or Riddler, played by Cory Michael Smith, The Penguin, played by Robin Lord Taylor, and Selina Kyle, or Catwoman, played by Camren Bicondova. This episode explains how the villains of the show are much more similar to their comic book counterparts than the good guys, and whether this is a good or bad factor.
After watching, leave your comments, opinions, and questions. Do you think Gotham has done a good job portraying these famous characters? What changes do you notice? Do you like the differences, or do you believe the writers should have stayed true to the way the comics portrayed them? Let Joe and Dan know what you think, and make sure to tune in to the next episode of Comic Movie-10.
Check out our interview with actor Christian Frazier who appeared in the TV show Gotham