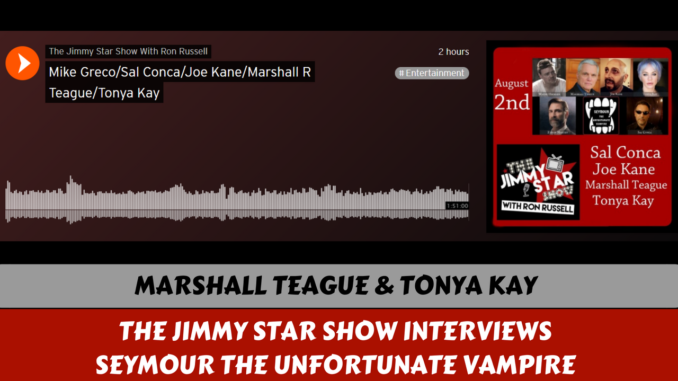 Things have been moving along quite nicely thanks to all the amazing contributions! We are so happy to see everyone embracing the indie spirit. Seymour the Unfortunate Vampire is now 40% funded which means we are halfway to getting the green light from Seed & Spark.
Every $1 counts with only 14 days to go!
Earlier today, Marshall Teague and Tonya Kay joined Sal and Joe on The Jimmy Star Show with Ron Russell for an interview about our streaming series Seymour the Unfortunate Vampire. Listen to the playback here and tune in at the 1h 19m mark.
Surprise Casting!
Coming up in our next update we will be announcing some surprise cast members and cameos.
Help us spread the word and to reach 500 followers by sharing our Seed & Spark link on social media.  Tag it with #SeymourTheVamp
Subscribe to Our YouTube Channel for more video updates from Seymour!
http://youtube.com/hecklerkanecreations
Follow us on Facebook & Instagram:
http://facebook.com/hecklerkanecreations
http://instagram.com/hecklerkanecreations
Join the conversation on Twitter:
http://twitter.com/hecklerkaneinc
Thanks again from Heckler Kane Creations!
Sal, Joe, Dan & Wayne