How to Make a Successful Comedy Web Series
---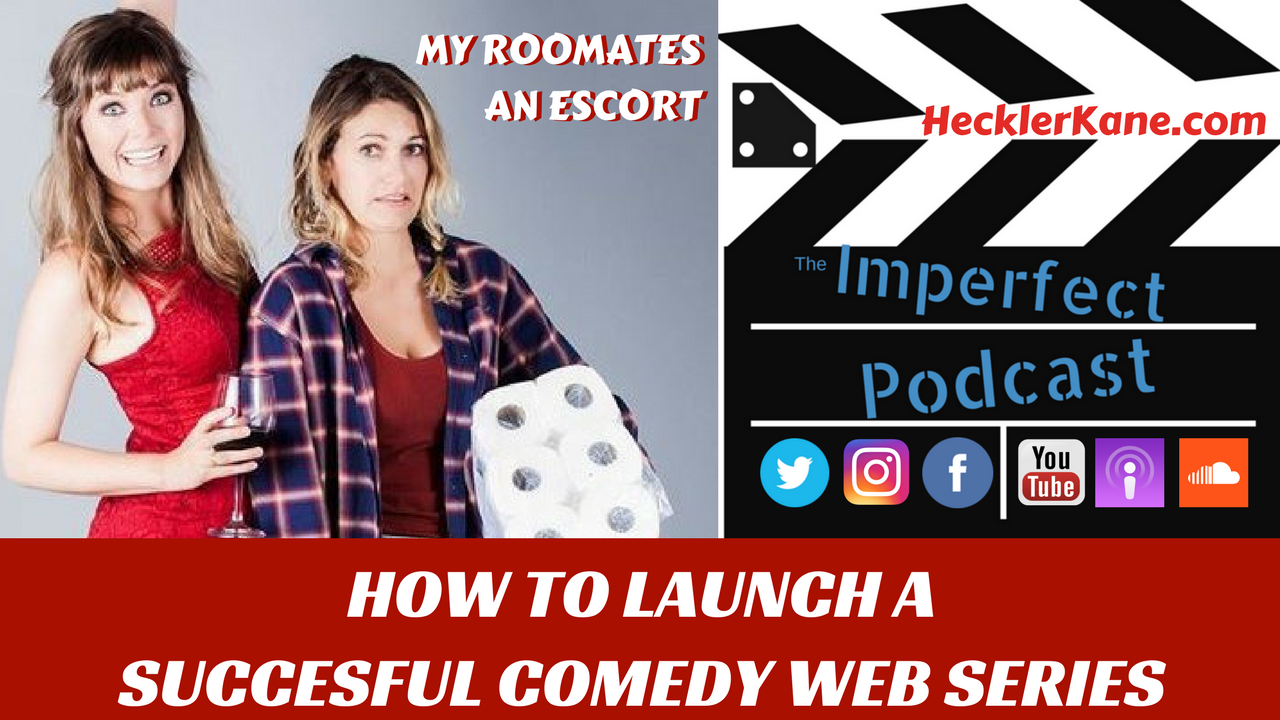 This week's guests on the Imperfect Podcast are Trish Rainone and Katie Uhlmann. They are the writers and producers of the new hit web series, My Roomate's An Escort. The web series is an off kilter comedy about two polar opposite roomates who influence each other's lives for better or worse. Trish and Katie personally bonded over break-ups and roommate stories and began writing together two days later and haven't left eachother's side's since. The two share a lot of laughs together on the screen and in real-life. Trish is thrilled at how My Roommate's an Escort came together and can't wait to make more!
We had a great time chatting with these ladies who are super funny and clever. They talk to us about funding the web series through crowd funding, investors and sponsors. Like many other talented people in the entertainment industry, they needed to create their own path to showcase their abilities. Fortunately for Trish and Katie, My Roomate's An Escort seems to winning over audiences with over 69k views in less than 4 weeks.

Writers, Producers & Actresses Katie Uhlmann & Trish Rainone
Katie Uhlmann is an award winning director, writer, and actor and was born and raised in Trenton, Ontario, Canada. After graduating from Queen's University with a degree in drama and psychology, she started pursuing a career in film and moved to Toronto. Katie has acted in countless shows (Workin' Moms, Just Passing Through, Paranormal Witness), commercials and independent films (Kingdom Come). She is also known for her work as a host on her web show entitled Katie Chats where she completed over 3000 interviews with guests including David Cronenberg, Tatiana Maslany, and oscar-winning actress Juliette Binoche.
Trish Rainone is an actress, writer and producer from Sault Ste. Marie, Ontario, Canada. She initially studied Film at Carlton University, but moved home to The Soo after some horrible roommate experiences and a bout of home-sickness. After working on several commercials, short films and the odd pause-or-you'll-miss-her roles in popular films such as The Void, she decided to begin creating her own content with people she connected with and respected. Her first short film, Constance, (which she Produced and Co-wrote) had a successful film festival run in the States and Canada. She earned a Best Actress Award at the Horrorizon Film Festival in 2016.
Watch How to Make Successful Comedy Web Series
Interview Highlights with Trish Rainone & Katie Uhlmann
How Did You Meet?
Drunk at a bar where all of our relationships begin. We met at a friends birthday party in January of 2016 and hit it off and seemed to have the same sense of humor and the same angst towards exes. At the time, we were both going through "something."
I had just gotten out of a 3 year relationship and crying a lot. We were both frustrated actors because we weren't getting opportunities for roles that we wanted so we decided to pursue the dream.
Why did you choose to produce a web series?
I think because we had good chemistry we decided to do some writing together. We both had produced some short films and put them in festivals. With short films you do festivals and then wonder what has changed. We thought tackling a web series would be a better approach to tackling stardom. (just kidding)
We are still taking My Roomates an Escort to festivals but it was the idea of getting something out there immediately and distribute ourselves online. Although I do have to say there is something about being in a theater with an audience and seeing what jokes they laugh at. That's something that's nice about festivals. On the internet you just have a bunch of assholes attacking you.
Has My Roommate's An Escorted offended anyone yet?
We took some heat early on when the trailer was released but now that it's released everyone knows we aren't making fun of escorts. Both of these girls are just girls. When you're figuring out your life in your 20's you go through some ups and downs.
We started with reality since we both had disaster roomates and branched out from there embellishing things and making them more absurd. The hope is that it's relatable on some level.
Some people no matter what your job is you might not be great at it. You can be a low achiever in any field is what we've learned from our experience. We can be fired from almost every job. That's something we talked about for Heather's character because we never explored. I've had a lot of different jobs in life. As an actor you go through a lot of jobs because you want to keep acting the priority and for some reason bosses don't like that at day jobs.
What was the creative process like for My Roomate's an Escort?
We wrote the series over 7 months. We both have day jobs, I work at a casting studio and at the time Trish was working at a bar which she's likely going back to. Whenever we weren't at our day jobs we'd be writing and sometimes I'd go sit at the bar when she was working. Other customers would be like what's going on? Did you say escort?
We had no lives for 7 months but really still have no lives. We crowdfunded on IndieGoGo and raised $20k and we threw a big party during the Toronto International Film Festival where we sold tickets to the party and got free alcohol from sponsors. Then we charged people $30 to go to the party that went directly to the IndieGoGo campaign but they got free food and drinks. A local business Adrenalin Tattoo gave us $5k and they were in the show. Our executive producer also contribute a lot of money.
Crowd funding and asking people for money was very stressful. Some people don't like it and get offended. I had one person actually say I've tried chatting with you and you never write me back and now you're asking me for money. My Mom got mad at one her friends for not supporting the campaign.
It's one of those things where you can't hold it against people if they don't support you. A good approach is being grateful when they do support you. Have low expectations but be appreciative when people do pull through. What's interesting is that the people you least expect are the most generous.
How long did it take to shoot each episode of My Roomates an Escort?
We did a block shoot and shot the whole series in 6 days. We ended up with a few pickup days.
How much PR & marketing was there leading up to the release of My Roomates an Escort?
We had $10k left we saved for marketing. There was a very strategic social media scheduled where we pre-planned our posts for every single day.
What was the web series filmed on?
We shot it on a Canon C300. I directed the series and come from a performance background so I don't know a lot about lenses. Our director of photography helped and collaborated with us a lot. I kept it pretty simple. It was a very efficient set but super fun.
How did you get sponsors for your events?
Katie is really good at writing emails but we also found that going in person is successful. Getting a personal introduction is also helpful.
What did you learn from shooting My Roomates an Escort?
Build your own success.
What's next for the series?
We are taking meetings. It's doing what we hoped it would do and grabbing network interest. Our dream would be to have a half hour comedy but we are proceeding with guarded optimism because a lot of things would have to line up for that to happen. We are just going to keep asking people to give us money until it works. We just want to be paid to write and create our show.