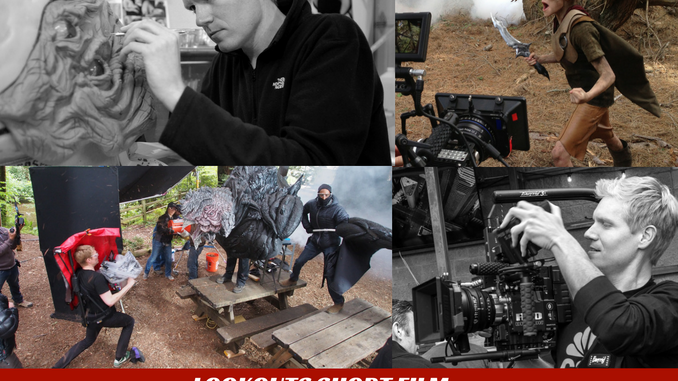 We had the good fortune to interview David Bousquet (pronounced "Boo-Skay"), Director and Director of Photography and Editor of the short film, LOOKOUTS. David Bousquet is a uniquely skilled director, editor, and photographer who uses that range of experience to communicate and translate his ideas into visuals. He's worked in advertising as director and director of photography for broadcast, web, and retail campaigns both nationally and internationally. With a BFA in Motion Picture, David has led and directed teams of talent in all areas of film making.
David Bousquet Full Interview
iTunes: Lookouts Short Film Interview with David Bousquet
SoundCloud: Interview with Lookouts Director David Bousquet
About the Short Film Lookouts
On their final trial as village LOOKOUTS, a troop of young scouts are ambushed by the very creature they were hunting. After a violent battle the lone survivor, Pehn, escapes into the shadows of the Eyrewood, a mysterious and deadly forest that is home to all manner of wild creatures. The most horrifying of all is the Basilisk, a winged titan with the power to turn its prey into stone. This is the beast the troop of LOOKOUTS were seeking, and now it hunts for Pehn.
This film is based on Penny Arcade, Inc.'s "Lookouts" ©2009, which was written and illustrated by Jerry Holkins and Mike Krahulik. It was produced with the express written consent of and with a limited license from Penny Arcade Inc.
"This short film is our first exploration into classic narrative filmmaking and it was an absolute joy to create. LOOKOUTS gave us an opportunity to explore new storytelling techniques as well as play with gear and tools in a format outside of advertising. The majority of the film is shot practically with live visual effects. We built sets, costumes, and monsters inspired by Jim Henson's creations from our childhood, then brought all of those resources together with a wonderful cast and crew into the misty overgrowth of Mendocino's redwood forests for a production experience we'll forever cherish."