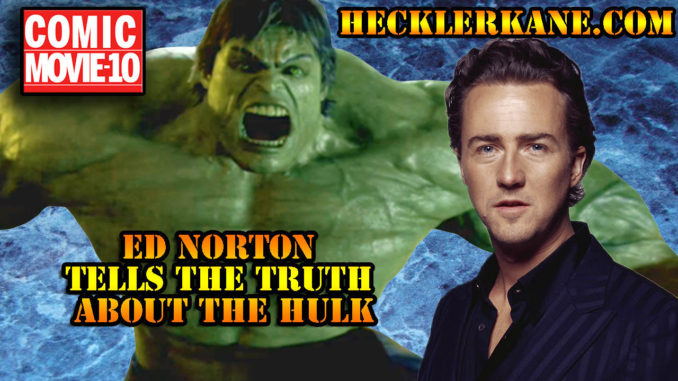 On this episode of Comic Movie-10, the Kane brothers discuss the recent comments made by Ed Norton in regard to Marvel. Back in 2008, Ed Norton starred in one of the first MCU movies, The Incredible Hulk, as none other than Bruce Banner (a.k.a. the Hulk). Zak Penn wrote the script for the movie, and although Norton was initially excited to be a part of the team, his opinions quickly changed. Watch the clip at the end of this post.
Norton's recent comments allude to the fact that he expected to have a lot of creative freedom and input when it came to the movie, however looking back, he does not believe that was the case. Norton was critical of the project, saying, "I wanted a better script." As a result, he voiced his opinions, and became involved in the rewrite. Although he spent hours and hours of his life helping to improve the script, he was never given credit in any way for his contributions to the writing, and in fact, while they filmed many of the scenes Norton wrote, they were edited out, essentially keeping the movie the same as Penn's original version.
Since Norton's disappointment in the Marvel movie, he has stayed far from franchise movies for the most part, and has made public statements insulting the MCU. In more recent years, Mark Ruffalo has taken over as Bruce Banner, and while Ruffalo is very well liked and a wonderful actor, many still question what could have come from Norton's portrayal of the Hulk.
Although Norton was not overly thrilled with The Incredible Hulk, the Kane brothers point out how the movie was not a failure in its entirety, and how it is actually a better-made movie than some of the other movies that fall in the MCU. For example the Abomination played by Tim Roth, was a very solid, round character. In fact, the end fight scene between Roth and Norton's characters was so well portrayed; it appeared to be straight from the old school comic books. In addition, Joe and Dan point out that the romantic relationship throughout the movie was well established as well. In general, both brothers feel that The Incredible Hulk was a good movie.
Do you agree or disagree with Joe and Dan? Have you heard Ed Norton's recent comments, and if so, what are your thoughts on them? Leave your questions, comments, opinions, and as always, tune in to the next episode of Comic Movie-10.