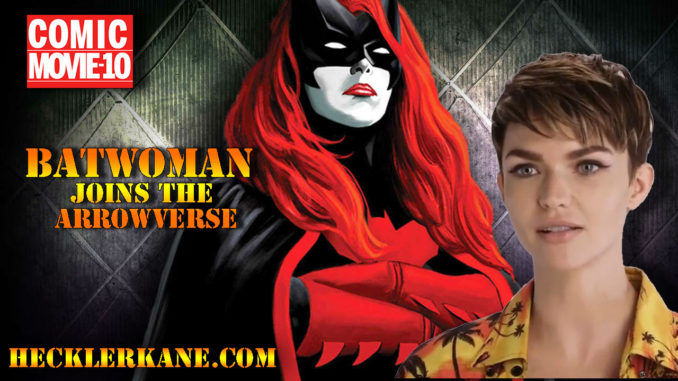 On this exciting episode of Comic Movie-10, the Kane brothers discuss the recent news that this year's CW cross over episode will include Batwoman. They start this week's podcast by emphasizing that Batwoman should not be confused with the better-known Batgirl. Throughout history, Batgirl, a.k.a. Barbara Gordon, has been seen in various versions. However, Batwoman is a different character that originally appeared in 1956's Detective Comics #233 as Kathy Kane, an heiress who is inspired by Batman, and uses her wealth to help his cause of saving Gotham City. Kane's character continues on to become a love interest for Bruce Wayne.
This information might beg the reader to ask, why is Batwoman not a well known character? The answer is that in 1964, Julius Schwartz stepped in as the editor in regard to all things Batman related. Schwartz made the choice to completely erase who he believed were nonessential characters, including Batwoman, Batgirl (who later made a more definite return), and Bat-Mite. Although Batwoman made a slight return in 1985 in the comic Crisis on Infinite Earths, her part was actually intended to explain that she never existed in the first place. It was not until 2006 when Batwoman emerged again, this time by the name of Kate Kane. This version portrayed Batwoman as a Jewish Lesbian, which is apparently how the Arrowverse intends to show the character as well. In the Arrowverse, Kane's part will be played by Orange is the New Black's Ruby Rose.
While the Arrowverse has previously made reference to Gotham City, and Bruce Wayne, this will be the first time viewers truly see these worlds collide. This news begs the question of what will follow afterwards in the Arrowverse. The Kane brothers question the possibility of seeing Batman, Robin, and many other Gotham City characters in the Arrowverse in the months to come. In addition, could this mean the Arrowverse will now suddenly be plagued by the villains of Gotham as well, which might include the Joker, Freezeman, Catwoman, and countless others who could bring danger and excitement to the screen. Joe and Dan also make clear that this cross over is a completely separate entity from the currently airing show, Gotham.
What do you think of Marvel introducing an old DC character to its story line? Do you think other Gotham City residents will begin appearing in the Arrowverse? Leave your comments, questions, and opinions, and as always, tune in to the next episode of Comic Movie-10!