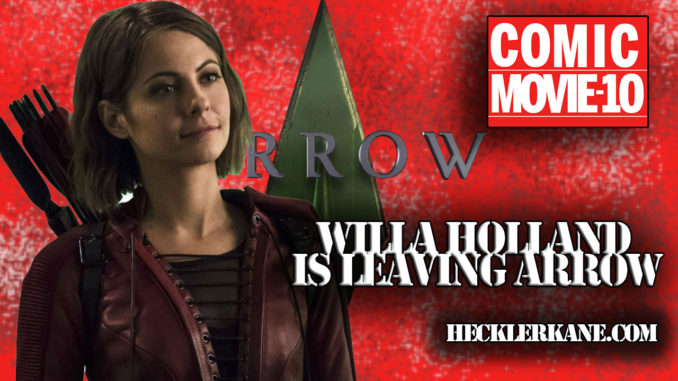 During this episode of Comic Movie-10, the Kane brothers address the recent news that Willa Holland has made the decision to leave Arrow.  For the last five and a half seasons, Willa Holland has lent her acting skills to play Thea Queen (also known as Speedy). Thea is Oliver Queen's little sister. As fans learned about Speedy's background, they learned she struggled with some very serious addiction issues. Her substance abuse issues allowed viewers to see Oliver play a nurturing role as he helped his sister during her recovery.
However, it should be noted that Thea has not always been the damsel in distress, as she can clearly hold her own as evident through the series. Joe and Dan discuss the ways Thea and Oliver's relationship has impacted the show, and how Thea's substance abuse issues relate to the original comics which first tackled this controversial topic.
Holland's character has shown great growth throughout the series and this episode highlights all of the ways Thea's character has overcome person problems in addition to those already mentioned. Her character also introduces a love story to the show as viewers watch her relationship with Roy Harper.
So why is such a beloved character leaving the show? Well the Kane brothers address this topic and make implications as to what her exit might mean for the continuation of the series. Noting that Holland's character has not been killed off, the brothers make speculations about the possible return of Speedy. Joe and Dan also discuss how her costar, Stephen Amell, has reacted to the news of her departure.
Listen in to find out about this information and more. Let Joe and Dan know your questions, concerns, comments and opinions. As always, tune in to the next episode of Comic Movie-10 to learn more insight about all things comic related!