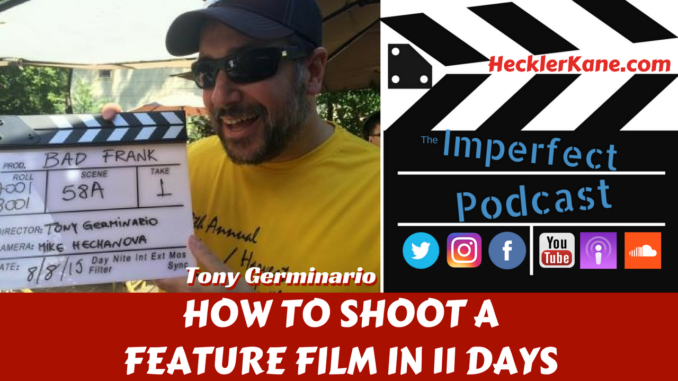 Tony Germinario is a writer and indie film director behind the award winning feature film Bad Frank. Born and raised in NJ. Tony went to school at Fairfield University where he initially began his screenwriting career. Since then, he has always been involved in creative outlets. At first, he focused on music and became one of the lead songwriters for a touring band called Jel, but then turned his writing skills from songs back to scripts roughly eight years ago.
Since focusing on film, Tony has written 9 feature scripts, several shorts, and has experienced increasing levels of success with his film-making. His first feature film "Wingman, Inc.", starring Kristopher Turner, Erin Cahill, and Reid Ewing was picked up by Lion's Gate/Grindstone and was released in April 2015.
Tony's latest feature film Bad Frank, featuring Kevin Interdonato and Tom Sizemore has people talking. It's won 11 awards on the film festival circuit and recently picked up a distribution deal with Gravitas Ventures. We learned a lot from Tony this week about transitioning from short films to creating feature films. The devil's in the details and preparation can be the difference between success and failure. Surrounding yourself with a team you can trust is also the key to making big things happen on small budgets in the indie film world.

Keep up with Tony Germinario and Bad Frank
Twitter: @tonygerm & @badfrankmovie
Instagram: @tonygerm
Tony on IMDB: http://www.imdb.com/name/nm4894287/
Bad Frank on IMDB: http://www.imdb.com/title/tt3362238/
Watch Bad Frank
Director Tony Germinario Interview Highlights
Where are you from?
Born and raised in Bergen County New Jersey. We actually have a big New Jersey contingency on this film. Kevin Interdonato, Russ Russo, Lynn Mancinelli and about ¾ of the cast and crew were from New Jersey. Keeps down travel expenses.
How long have you been making independent films?
For about 6 years now. In my younger days I was a touring musician for a number of years in NYC and the northeast. You reach a certain age and have kids where you can't drive to Maryland at 11pm on Wednesday anymore. I wound up transitioning out of that into film.
Probably about 8 or 9 years ago I wrote my first script and it was awful. Then I wrote my second script and it wasn't as awful and it progressively got better each time I wrote one. I was hired by a gentleman, Choice Skinner to write a script for him. He had written an advertisement looking for a writer so I sent in a few samples and was hired. I was paid all of $100 and I was a professional screenwriter so I was thrilled. We hit it off. Choice is New York guy himself even though he lives in Los Angeles. The script is still sitting in development limbo on some executives desk.
We hit it off after that and I went to one of Choice's acting classes. If you've never been to an acting class, go! It's insane. I met a couple of people there and I wrote a couple of short scripts that they could use for class and he said why don't we just make them ourselves. I had no idea what he was talking about, I had never produced anything. I just wanted to write.
We ended up raising a little bit of money and shot two short films over the course of a weekend. That was really the start of it. I made another short film after that. Then I wrote a feature film that we produced called Wingman Inc. A professional wingman falls in love with a professional cockblocker. That was more of a comedic film than Bad Frank.
I wrote Bad Frank and wanted to see if I could do it all myself with the feedback I had been getting from people like Choice Skinner. I had worked with Brandon and Kevin before so we decided to do something really low budget. We were very fortunate to get great performances from great people involved. I feel very lucky to work with all these people and am beholden to them. Whatever I do next, any success I have is due to the people I worked with. I'll do anything I can to help them out as well.
What is your philosophy on working with the same team for your films?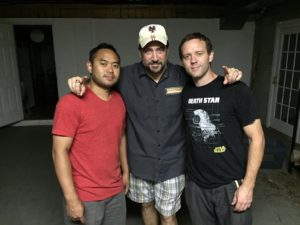 It helps you get a cohesive set. Especially for Bad Frank, we shot the whole thing in 12 days. If we didn't have a good working knowledge of how we all fit together, there is no way we could have pulled it off. As you work on projects you determine this is someone you can work with again so you keep them in the fold and there are other people that may not fit. You know pretty quickly who fits your model. I like to think I don't have much of an ego. I don't really care as long as it comes out good. As long as everyone is working hard and doing what they are supposed to they're good with me. That's why I like keeping these people close.
Look at Judd Apatow who uses the same guys or Kevin Smith who uses Ben Affleck even though he's one of the biggest actors in the world now.  That's who I aspire to be. I bring Kevin Smith up because we were lucky enough to work with Brian O'Halloran. That was surreal. Clerks was one of those movies growing up I was like how did he do this. Brian walked on set the first day and I probably came across as a little jerky but I was really just intimidated. Probably more intimidated by Brian than Tom Sizemore.
I said it recently to a friend of mine. My next project I do, I want to have him back to give him more time to do what he does. He had two great scenes in the film but it wasn't very much screen time.
Why did you start with short films?
I'm a kid out of Jersey. I just had to figure out a way to make a calling card. There are  a lot of festivals out there and if you start winning some awards you start to get your name out there. Maybe now it's a little easier if you get on a Vimeo channel or something like that and you might find a way to monetize it but you're never going to make your money back. I didn't go to film school. If I was going to learn, that's how I was going to learn. Still money well spent.
How did your process change from making short films to a feature film?
For the first feature, Wingman Inc. I was just a writer and showed up on set to watch and learn. Choice was the director and I kinda sat on his shoulder and watched how he did things. What I learned is, if you hire the right people, the director doesn't have to do much. It's all in the preparation beforehand. You're going to setup your shot lists and work with your director of photography to do that. That was a learning process too but fortunately my DP was great, Mike Heachanova.
It's about figuring out how do you get the right people in the right spots and letting them do what they do. My process is typically I'll do a couple of takes and not say anything. On the 3rd take I might say here's a little note to guide them. If you're working with talented people which every single person on our set was, you don't have to do that much. Make it an easy place to work and the rest takes care of itself.
What is Bad Frank about?
It's a love story…just kidding. It's about Frank who has impulse control disorder. In his younger days he ruined all of his relationships with his family and friends. Years later he has himself straightened out and he's medicated and trying to repair his old relationships. Just as he's going to do that he meets up with someone from his past who sucks him in to his old ways. That's when "Bad Frank" is reborn.
This film is all about performances. There are no special effects, no crazy car chases, we've got a couple of fights we shot but it's about performances.
If you notice, one of the cool things throughout the film is that there isn't much music but there's a lot of sound design. We mixed these eery creepy sounds as things start effecting Frank and it gets stronger and harder as things progress. That's something a lot of people don't think about as well in the post production world. If our sound guy didn't do a good job on that part it wouldn't have been as intense. As good as Kevin is, you have to have the audio with the video. If it's not there it would have been more challenging to keep people interested in it.  It keeps the intensity going and its such an integral part of the film.
What are the details of the Bad Frank shoot?
We shot on a RED EPIC. It was a two camera shoot. We didn't really have that many takes. If we got 3 or 4 takes that's it. If got a good performance we don't have time to mess around. We probably had 20 to 30 minutes of film we cut. We had very fortunate circumstances. It was a 12 day shoot, 6 days on 1 off then 6 more days of shooting. I still have a regular job. I took 4 days off to shoot and while everyone else had a day off I was still working at my regular job. It was a total of 8 work days for me but it was well worth.
When you can pull something like this together and see it on screen I was stoked.
What was the budget for Bad Frank and how did you get funding?
The budget for Bad Frank was $80,000. Myself and one of my other producers put up the money. Fortunately, I have a very understanding wife. We filmed at our house. Every single room in our houes the furniture was moved around. The final scene in the dining room where the big fight breaks out, we smashed everything in our dining room. If you want to do it cheap  you gotta use what you have.
What was it like being the writer and director on Bad Frank?
I had the original idea for the script and then Brandon and Russ added their input. It was a collaboration in the way we did. From a director's standpoint it really helped. I knew the script inside and out. I knew the motivations of the characters in every scene. That's one of the reasons Kevin and Russ were able to give such great performances. It's all about the preparation.
I think I'd find it more challenging directing something I didn't write. You then have to intrepret what the writers motivation was and you could be off the mark if you don't have enough time or money. I'm planning to direct the next two or three projects of my own unless someone wants to give me $1 Million to pay for it. These are my babies at this point.
How did Tom Sizemore get involved with Bad Frank?
Tom Sizemore was great. We knew someone who knew him and him the script. He loved it and wanted to be a part of it. The great thing about Tom is, he's just a regular guy when he's on set. In one of the scenes where we're throwing him around in the mud, asking if needs a mat or anything. He just said fuck it, lets just do it it's gotta be real. You don't expect it from guys like that.
When we originally started the schedule, Tom Sizemore was going to show up for filming on the 3rd day. I was going to have 2 days to get my legs because I never directed anything before. I wanted a couple days before we bring in Academy Award Nominee Tom Sizemore directed by Steven Spielberg and Oliver Stone and then this schmuck Tony Germinario. Schedules changed and there we are day 1 of shooting with Tom Sizemore.
After some travel complications, Tom actually admitted he was nervous about showing up on set. He said he didn't know any of us. Tom just wanted it to work out good and put on a good performance for us. He did everything we asked of him, rolling around in the dirt and mud. When we were done he actually could have taken off but he stuck around for another day just to hang out and have dinner with us. You can't say no to having dinner with Tom Sizemore. He's a legend.
With Tom we could give him the framework and he just says whatever he wants. I don't know if you caught it but he talks about something that happened in real life based on some research he did for a film. He actually brings it up saying someone else did it but he tied it to a true person.
What is the distribution strategy for Bad Frank?
After winning 11 film festival awards we just signed our distribution deal. We are getting the dates set but in early July it looks like we are going to have full domestic distribution through Gravitas Ventures. Bad Frank will be available on Amazon, iTunes, DVD and probably Netflix 6 months later. We also work with Lotus Entertainment who's our sales agent and international distributor. We have already sold to the Middle East, Turkey and Japan.
Kevin knew them and they had liked the script from the onset. They were pretty much onboard before we made the film as long as we didn't fuck it up. We've been very fortunate at festivals and with the backing of Lotus Entertainment and now Gravitas Ventures I think it's really going to help launch this film. Even though it's a small it doesn't look like a small film in my opinion. The proudest thing for me is to get the performers recognition. They all did it for peanuts and I know the reason they do it, just to work but I want to see them succeed and not have to worry about taking the $100 job.
What did you learn from the making of Bad Frank?
Number 1 is preparation. The preparation is going to guide the end result. I spent months working on locations and shot lists. You can't just show up and hope the magic is going to happen. You gotta be prepared for any contingency, sun to rain, lighting goes out. What do you do when things go wrong? As a director you can never show fear. You always have to be calm and be able to pivot.
Next I'd say, think smart. Know what your capabilities are and how you can handle them. Work with your team. Find people you can trust that you work well with. I'm extremely loyal to the people I work with and if I didn't treat them well they wouldn't by loyal to me as well.