Actress Chanel Ryan Tells Us Why Actors Should Take Acting Classes
27 March, 2017
0 Comments
---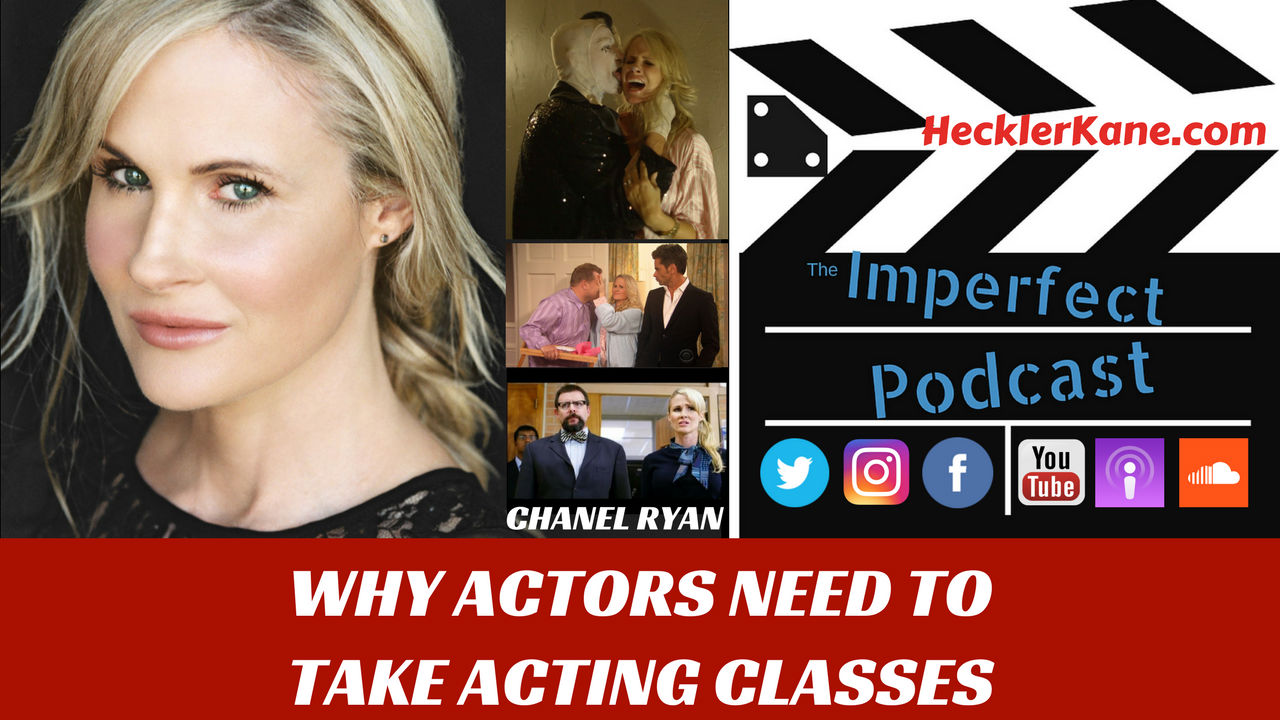 Talking with actress Chanel Ryan we learned that being an actor is like being self-employed. That means you need to treat acting like a business. As an actor or actress have you asked yourself, should I take acting classes? It's no secret that to make it Hollywood it takes guts and a whole lot of work. By taking classes you'll get a solid foundation that will translate into confidence for yourself and the potential casting directors and other actors you'll be working with.
Chanel Ryan is an American actress who has successfully navigated the acting and modeling industry over the past decade. Descriptions of Chanel are as varied as the roles she plays which you'll see in our interview. A ball of energy with captivating eyes in a pretty blonde package. She's a chameleon with strength, vulnerability, and great comedic timing in equal amounts. She shines in the lighter, bubbly types and specializes in darker material, playing edgy and troubled young women.
In 2011, she shifted her attention to acting full time. Her recent roles include a guest appearance on THE LATE LATE SHOW opposite James Corden and John Stamos; Starring roles in two independent films, horror film CIRCUS OF THE DEAD alongside genre legend Bill Oberst Jr., and the psychological thriller HOUSE ON RODEO GULCH. She can also be seen in the upcoming release of the comedy HYPNOTIZED starring Vinnie Jones and Kevin Pollak, as well as the drama BIGGER THAN THE BEATLES.
This past year, Chanel believed in getting a solid foundation for her career so much that she took time off to do just that. She's been working on her craft daily to make sure she can lands the type of parts that will make her proud. We hope you learn as much as we did from Chanel Ryan.

Keep up with Chanel Ryan:
Web Site: http://www.chanelryan.com
IMDB: http://www.imdb.com/name/nm0752457
Facebook: http://www.facebook.com/pages/Chanel-Ryan
Twitter: http://twitter.com/ChanelRyan
Instagram: http://www.instagram.com/therealchanelryan
Watch The Complete Interview
Read The Highlights of Why Actors Should Take Acting Classes:
Are you a Los Angeles native?
No I grew up on the east coast in Pennsylvania but we moved a lot. From Pennsylvania, to New Jersey to Northern California to Southern California. I feel very fortunate to have had the best of both worlds. We had a pond so in the summer you swim in the pond and in the winter we would skate on the pond. Then when we moved to California there was the beach and we had a pool. I got to experience the country as well as the beach.
When did you catch the acting bug?
When I was little I wanted to do one of three things. I loved art and was always drawing and painting. A lot of the grocery stores where I grew had contests. Around Easter who ever colored the egg the best and Christmas it would Santa or a tree and Halloween it's a witch or a cat. I would win every holiday. I'm a vegetarian but I would win my family a turkey or a ham. A couple of times a store manager thought I was cheating and had an adult do it so I had to go in there with my little art box and color for them.
I had an illustrated children's book published when I was little and my stuff appeared at the festivals in Laguna Beach. That's what I always wanted to do.
I always liked the thought of acting but it seemed so far away. I don't have any friends or family in the industry. I'm not from LA or New York and I had no idea how to get into it. I laugh now because I thought it would be a very glamorous and easy job. There are parts of it that are glamorous but 95% of it is not glamorous.
How did you transition to acting?
I was fortunate. In junior high I was living in Southern California I was approached on the beach to model for a swimwear campaign. From there a few other jobs came in. Around the same time I was at a park with my girlfriend and someone approached us to audition for commercials and I got that as well. It was a series of events like that. A friend was doing wardrobe on a film and I went for dinner at her house and the director was there. He thought we were all cute and asked if we want to be in a movie and that's how I got my first part.
I was planning to go to art school because I really wanted to be a fashion designer or an interior designer. I started working so much, modeling first and acting equally with a lot of success modeling in other countries.  It's really hard to turn down a paid job in an exotic location rather than stay in town in hopes that you'll get an audition and then from that audition hope that you'll get a call back and then hope that you'll get a job.
Does acting account for more of your career than modeling now?
It does. I still model a little bit. They are both really full time jobs. You can only do so much. A few years ago I decided if I didn't want to be one of those girls who used to have a career. I kept saying I wanted to be an actress so I needed to switch my focus, stay in town and buckle down.
The first few acting jobs I had were huge studio productions and I no clue what a big deal that was. When I worked with John Frankenheimer I auditioned on the set and he offered me a part. I worked on the film for about 2 weeks and you barely see me.  He had said to me I'm going to put you in all of my movies, I'm going to make you a star. His assistant would call my home to try and book me for stuff and I would come to messages on my answering after I was off modeling wherever I was.
The first movie I did regardless of what IMDB says is called Waitin for the Rocket. I was about 16 years old and I had switched my ID to say I was older so I could work. It was Disney style family comedy and I was one of the lead roles I had no idea what a big deal that was to book the lead in any film. Shortly after I worked with Frankenheimer. I did an Easter special with Andy Williams for the BBC with 60s themed skits. I did a pilot with Bill Murray called The Sweet Spot. I did a lot of big things when I was very young and unfocused.
When did you start taking your acting career more seriously?
I had done a lot of commercials so a lot of agents were interested in me because I could make them money. I've studied with some of the biggest acting teachers in Los Angeles and each one of them I took something away from them. I had really been looking for a more solid foundation so about a year ago I started studying the Meisner technique with Alex Taylor. I recommend any actors in Los Angeles study with him. It's a big time commitment but it's worth it. With the intensive program you go the first 4 months 4 days a week.  It's like condensing 1 year into 4 months.
I've been turning down a lot of jobs so I can focus on class. A lot of films I had been in I felt like some I was good in and some I was terrible. When I did something that was good I didn't necessarily know how to do it again. This is why I was searching for a solid foundation and he's given me that. I feel like I can handle anything now. Every Monday we would do a different accent and every Thursday we would do a different impediment. It's a full on drama school. I've given myself a gift and taken some time off to grow as an actress so I can always deliver good work and feel confident about it.
Whats the difference between indie films and studio work?
I go back and forth between studio and indie. Comedy is actually my first love. On the indie films it's hard for me because I know what it's like to be on a studio set. I know how its run, what the rehearsals are like, everyone's fully trained and memorized their lines. It's really easy to do good work under those circumstances. I love the indie world and I'm booked for indie roles coming up but one of the problems I was having and really wanted to study was a lot of times you only get one take. There aren't many rehearsals. Sometimes the people you are working with are trained sometimes not. Sometimes they've memorized their lines and other times not. It's challenging to good work.
I was on a film recently and the other actor hadn't memorized his lines. He said he had the gist of it.  I had to explain that each character has an arc with a beginning middle and end. If we don't by the script we will never get to those. Depending on the director there may be room for improv but if you don't have everything down there is no room for improv.
Do you have any audition war stories to share?
I'm sure I do but I tend to block out the traumatic stuff. We're all busy. There are times you run into an audition and you're not prepared, looking it over in the car. That can never be good. There are a few instances where you just have the right look and you get the character but for the most part it's never good if you're not prepared. I've done some terrible auditions I'm sure.
Which actors did you work with that inspired you?
All of them. I feel so fortunate that I've been cast so often among people that are way more talented and successful than myself. You're only as good as the person you're working with. Each person I worked with I learned different thing. Bill Oberst Jr. and I had a great time shooting Circus of the Dead. We were laughing and joking between takes and then I'm crying and running and screaming. I'm a vegetarian and at one point he licks my face after he had just eaten meat for dinner. It actually helped me because it smelled like meat. Bill is the nicest guy and would apologize in advance.
Judd Nelson was great to work with in Bad Kids Go To Hell. It's interesting to see actors who are seasoned veterans how they come to the set. He was much more experienced than anyone else on the set in front or behind the camera. Judd was offering his advice to everyone about the scenes and stood up and fought for what he believed was right.
What was working with John Stamos like?
So nice, such a professional. Everyone was jealous and I'm a huge James Corden fan and watch his show every night. I heard about the audition while out of town and I had to put something on tape. It was me being a complete fan girl. The guy that taped me was like, "Are you sure you want to send this in?" I was like yes and I got it. I never watched Full House if you can believe that. John Stamos is ridiculously good looking. His comedic timing is amazing and a consummate professional.
When you work with people who have that sort of status it can be intimidating. I've been lucky that everyone I've worked with has been super nice.
Is establishing relationships important for getting more work?
I have a lot of the same people that hire me over and over since I was a teenager, especially commercially. I probably have 8 to 10 producers that book me. If I just worked for them, everything would be great and I have the same thing with a lot of theatrical directors which is great. Don Richardson I did a fun comedy called Attack of the Bimbos and we are about to do called Busted Reality. It's about 3 girls who wanted to be famous by getting reality shows.
When I had first auditioned for him he was interested in me for a role but I was leaving for Canada. He really wanted to have rehearsals but I couldn't be there. I was in Canada at a convention hosting different events and I get a call from Don offering me the lead role because he was having issues. Long story short I ended up cancelling some things in Canada and learned the script on the flight and started shooting.
What advice do you have for actors & actresses looking to break into Hollywood?
Don't do it! There's so many amazing things about it but I think a lot of teenagers are so influenced by reality television and think you can become famous by doing something stupid. What a lot of people don't understand and only see the glamorous side. You're basically self-employed and there are not enough hours in the day. You have to treat it like a business.
If you wanted to be an interior designer you would go to school for that, study for that, get an internship, start working under someone to learn the ropes before you go off on your own. It's the same with acting. It's a job. Every day you should be taking a serious class and working towards your goal. Whether it's working on an accent, memorizing, researching casting directors or scripts. That way when you get an audition with one of these casting directors you understand how they operate.
My first jobs were offered to me but I was always prepared. If I was asked to bring wardrobe, I brought the best wardrobe I could. I always gave 110% and took advantage of every opportunity that came my way. I get to work with creative people in ridiculously exotic locations I might not otherwise see.
Have more questions for Chanel Ryan? Ask us here and we'll make sure she gets em!
Tags:
actress
,
hollywood
,
horror movies
,
indie horror
,
women in film