Why You Should Contact a Film Office For Your Next Movie
11 December, 2017
0 Comments
---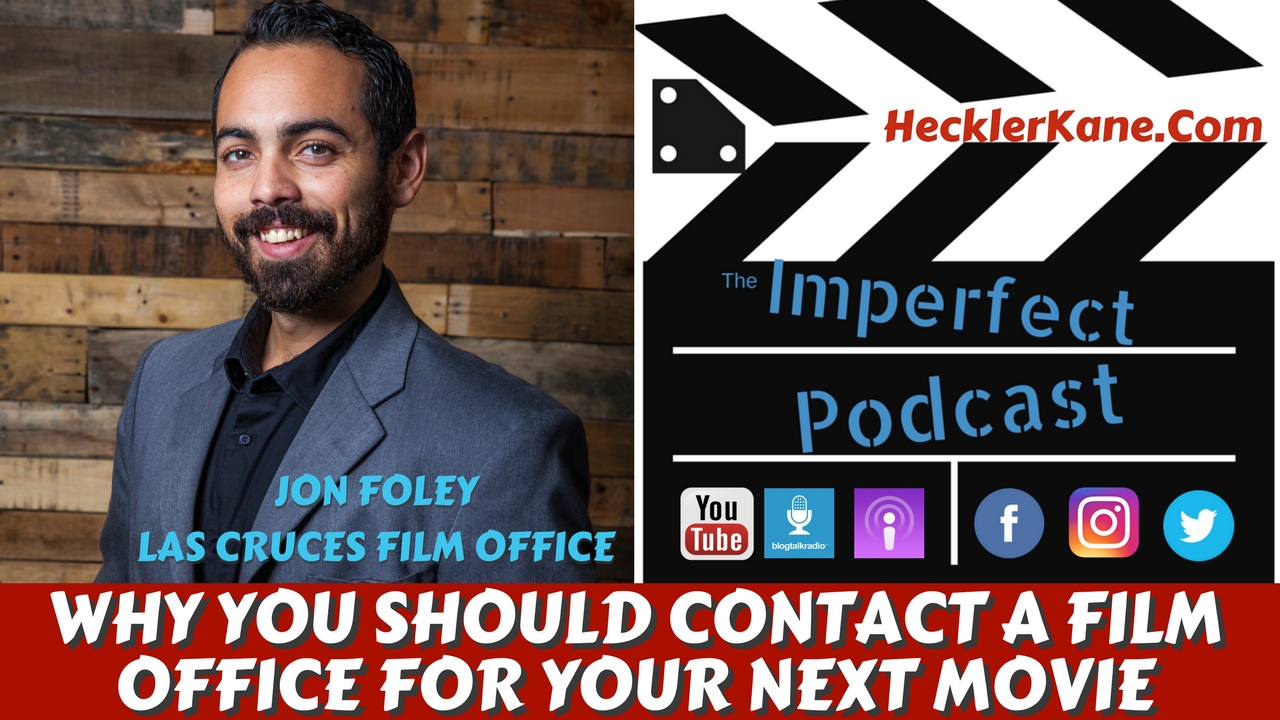 This week's guest is Jon Foley from the Las Cruces Film Office in New Mexico. We met Jon at the American Film Market in 2017 and decided to pick his brain on why filmmakers should contact a film office for their next movie. Many filmmakers don't realize the benefits working with a local film office can have including incentives, locations and a local crew.  Filming in a location like Las Cruces may surprise with its vast landscapes, mountains, deserts and miles of pecan trees.
Jon Foley began his journey into film & video production at the age of 11 in Las Cruces, New Mexico. His path has had many detours; Digital Video Content Manager for an online ethical hacking university, video production company owner, 1 feature and countless smaller projects as a Director of Photography, Producer of short films premiering at festivals like Festival de Cannes, Brussels Short Film Festival, and Hollyshorts, viral content creation (5+ million views across the web), landscape photographer, and the list goes on. Currently, he is the Film Liaison for Las Cruces and has his full attention on bringing more film and television productions to his area.
Have an interesting story about working with your local film office or film commission? Share it with us in the comments

Film Las Cruces Links:
http://www.filmlascruces.com
https://www.facebook.com/filmlc
Keep in Touch with Jon Foley
https://www.instagram.com/jonathon_foley/
https://www.facebook.com/offroadnewmexico/videos/1782038265362262/
What is the Las Cruces Film Office?
The Las Cruces Film Office is about to be certified to become a film commission
Jon's job is to market the city of Las Cruces New Mexico film producers, location scouts and anyone looking to shoot television, film, commercial work or anything video related that will get local crew members work and the area seen.
The film office also helps with permits, facilitating locations or working with local departments such fire and police.
 What are the benefits of filming in Las Cruces?
One major benefit is not having to pay for permits and Jon usually turns them around in 1 to 2 days.
If you're doing a non-union shoot, Jon has access to over 60 local crew members ready to work including camera operators, grips and production assistants.
Las Cruces has an abandoned court house / prison you can shoot at for free for the next year! Dona Ana Detention Center
Visit Film Las Cruces to see their database of locations available.
What are the qualifications for shooting in Las Cruces?
Jon helps everyone from the micro budget indie film to Hollywood sized budgets.
There is no minimum spend as long as you are willing to fill out the paperwork.
There is a 25% film rebate as long as you keep track of the money spent.
How does the film rebate work?
The rebate is processed through the New Mexico Tax & Revenue department.
As a filmmaker you'll be buying the lumber, paying for locations, food, gas and transportation.
In 2016 there was $505 million spent on TV & Film in the state of New Mexico.
How do you acquire locations?
Jon drives around taking pictures of city property to add to the database regularly.
Who you know and how you get to know helps in acquiring private property.
Find locations across the United States using LocationsHub powered by Reel-Scout.
Fun Fact: The car crash in "Due Date" was filmed in Las Cruces
What has been filmed in New Mexico recently?
https://www.youtube.com/watch?v=mMUiRYoc76A
How did you get the job as a film liaison?
I went to a Film Las Cruces board meeting and they announced they were hiring.
I threw my ring in the hat and I became the assistant to the person who was hired.
When he left I became the film liaison.
 Jon's Film Career
Hear Jon's journey from corporate training videos to real estate photography
Jon helped finance a short film that went to Cannes and also worked on a short that premiered at Brussells Short Film Festival & Hollyshorts
Facebook Groups for Marketing
Download or Stream the episode to hear how Jon continues to organically grow Facebook pages like NewMexi.co
Tags:
#supportindiefilm
,
filmmaking
,
indie film
,
micro budget film
,
short film