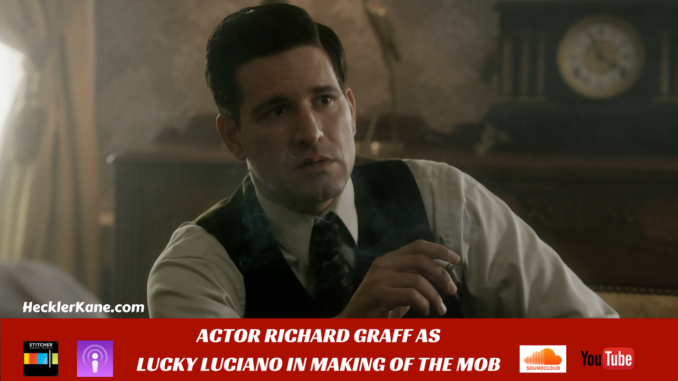 This week we chat with award winning actor Richard Graff who's best known for his role as Lucky Luciano in AMC's Making of the Mob. Rich talks to us about taking a leap of faith into acting, his childhood inspiration John Ritter and what Hollywood is doing wrong.

Rich was born and raised in the heart of New York City and had the acting bug since the day he was born, quite literally. When Rich was born, a producer at the hospital requested Rich as a Gerber baby.
A man of many talent, Rich Graff is an accomplished musician and also attended aviation school in NYC. Talking with him, you can tell he's a man that follows his passions. Leaving a stable career in law for the risky road of acting. To develop his acting skills, Rich studied with a number of acting teachers including Wynn Handman at his private studio, and with Peter Minor at T. Schreiber studios.
Rich has quickly racked up 26 acting credits since 2010. His first major television role was as a detective on "Law & Order Criminal Intent" in 2011. His breakthrough role on the big screen came as the love interest of Heather Graham in "My Dead Boyfriend" in 2015, directed by Anthony Edwards.
The role of Lucky Luciano conjures up all sorts of connotations but to play the role experience may be all you need. As a native New Yorker, Rich Graff grew up around the mafia right in his own backyard. The success of Making of the Mob New York on AMC fueled a second season taking place in Chicago.
Capitalizing on the success of the show and his passion for creating great content, Rich is producing a film called Amaranth. He is also working on a new television series and more. Keep an eye out for Rich Graff, he'll be coming to a screen big or small near you!
Watch Making Of The Mob
Actor Richard Graff Interview Highlights
We know you're a fellow New Yorker, we're here on Long Island. Where did you grow up?
I was born in Brooklyn but raised in Queens. My parents still live in Howard Beach, they still have a house  there. I was first raised in Ridgewood Queens, now i live in the city. I'm in Los Angeles quite a bit for work.
How long have you been acting? Did you ham it up when you were a kid?
It's a strange story, there was a producer in the lobby of the hospital. As my parents were bringing me out, they offered to put me on the Gerber label. I don't know where they saw me or who connected us, its a strange story. That's been my life really. I've always been geared toward stories and film. As a child I would go the matinee about 10am and I would leave half blind at about 8:30 pm. I rented every movie that ever existed as a teenager. Just always loved the storytelling part of film & TV.
Any professional acting classes? Did you train professionally or is it all just natural ability?
You know I think we all have something about us that draws attention to us.  I've been with some great acting teachers Wynn Handmann who's taught everyone from Red Buttons to Richard Gere. I was at T Schreiber Studios, I went to a lot of studio and professional acting schools. I actually had my graduate law degree before I started acting.
My bachelors degree is in literature and writing and then I went on to my graduate law degree after the fact. I did not even get into acting until about six years ago.
Then you were cast in your first television role as a detective on Law & Order Criminal Intent?
Correct. That was actually before I even had an agent. They brought me in, I was of course nervous as all can be and fortunately I booked the role which was nice. Slowly but surely I was able to gain some confidence, get an agent, get a manager. I was always thinking there'd be a perfect time to leave my 9 to 5 job but there never really was. I had to take a bit of a leap of faith and do it on my own.
At what point do you go from working a 9 to 5 job and doing this on side to saying I'm going to be a full time actor as my career?
There is never going to be a perfect time. There is never going to be a time where you make enough money to say OK, even if I don't work for a couple of months I'll have made enough from whatever that was to support myself. There's never going to be that time. You have to take life in terms of what gives you pleasure rather than just working for your life making money because as we all know you can't take it with you.
It's not for everyone. Some people are just interested in accumulating wealth and being defined by how much they are worth. That's just not for me. It's not really a dream for me, it's more of a predisposed vision that I've had since I was a young child.
Growing up as a child being a fan of movies, what actors or movies did you get inspired by?
As a young boy, I really liked John Ritter from Three's Company. His physical comedy, his disposition it made me laugh. It gave me great joy. He's one of the reasons I went into acting. He's a great man too. His father was a country singer and a TV personality. His son is a pretty good actor now too.
And you're a musician as well is that correct?
I grew up playing the piano, the horn, the drums all of that by ear. I started reading music but somehow I knew that I could play it just by playing with it a little bit and finding which notes are the correct notes.
What type of horn do you play?
I played the two valve, the three valve, the trombone…The piano I still play from time to time. You guys are musicians, it's like anything else. It's physical memory, its a very fine tuned type of skill to have and its acquired over a long period of time.
Have you used any of your music in films?
No, but my ear for music has allowed me to help with putting music in that I like in certain scenes.
How did the auditions go for Making of the Mob? How did you land the role as Lucky Luciano?
Honestly, I had auditioned for six different roles in the show. I first auditioned for Al Capone. I think I went in for every role except Lucky. The next audition, they said the director loves you, the production company loves you, all you have to do now is paint your hair black, put on some brown contacts, put on a vintage 1920's suit and then we'll send the pictures to the executives at AMC and if they like you you're all set. I'm just glad that I got accepted.
Are there plans for a Making of the Mob Season 3?
There was never really a plan for a second season. I think we created such an enormous fan base that the viewers demanded it so I couldn't see why they wouldn't go somewhere else like Las Vegas. They could even move up the dates in New York if they wanted to.
If they go into a 3rd season do you think you'd be a part of it?
I'm the type of person that would rather see something rest well than try to resurrect something and destroy what was layed out already. I think we did a fantastic and to go back and ruin what we already did? If it's done the right way and the writings good then that's fine.
I don't want to be type cast either. Rober De Niro played a lot of tough guy mobster rolls but also played other roles like in the film in the hospital with Robin Williams? Awakenings, one of the best films ever.
How much did you study for the character of Lucky Luciano? How much did you know about Lucky Luciano before landing the role?
The broad strokes we all knew about. In terms of preparing for the role, as you guys know I grew up in Howard Beach. Growing up unbeknownst to me I was best friend with the head of the mafia in the 80s and 90s era. I grew up with Peter Gotti whos John Gotti's youngest son. Jesse Burke who's Jimmy Burke's son.
Jimmy Burke is the real name of Robert Deniro's character in Goodfellas. In the film his name is Jimmy Conway but his real name is Jimmy Burke. Watch the film Goodfellas and there are people in that film who lived in my neighborhood. I lived around the block from John Gotti. He used to walk around the block and say hello.
How much interaction did you have with Ray Liotta who narrated Making of the Mob?
Ray was not hired until we finished shooting. They didn't even have Ray attached until they finished shooting. Chazz (Palminteri) I had a lot of interaction with especially from when we did the opening, premiere night. I got a chance to speak with him privately. Really great guy. We were very similar in terms of the way we grew up A Bronx Tale is really how he grew up. I was parking Cadillacs when I was 12 years old for money. It sounds ridiculous, it sounds made up but somehow true.
You recently wrapped on My Dead Boyfriend with Heather Graham. Tell us about the movie?
For some reason it got really bad reviews in The Times and other newspapers but it's doing really well. That happens a lot with good pictures. Critics will bash it but the public loves it and that's what's happening with this film. It's a great film. It's retro film, we flashback to the 80s. The costuming is really nice. Heather and John Corbett are fantastic to work with. It's Anthony Edwards first film. I'm really happy its doing well in spite of the reviews.
You played Mary's boyfriend, a drummer in the film?
Of course she comes home to find John Corbett dead and as she's flashing back in his past, she's int he past and we're in the same band and I'm drummer. Of course she dumps me. I'd rather be the dumped boyfriend than the dead boyfriend. Heather is beautiful and professional and really fun to work with.
Watch My Dead Boyfriend on iTunes
What's Your Next Project?
I'm producing a lot of stuff that I'm going to be in. One film is  Amaranth, directed by a young talented direct Mark Shoonmaker. It's an apocalyptic end of the world but bringing together humanity kind of film. We have a great cast but we can't name anyone just yet. We have a budget in place and will be scouting locations in Mississippi to start filming in 6 months.
Another film I'm excited about is Mr. Chicago. It's deals with the life of a man who was right hand man of Mayor Daley in the 60s, 70s era of Chicago. You can imagine the murder and money laundering going on at that time. The interesting thing about criminality in Chicago, there's not a lot of dirty laundry coming out of there. We have a couple of  people attached to the picture already like Michael Madsen and Paul Sorvino who loves the script.
Next is a TV show called The Undetected I've been working on with the producer for about six years he's been holding onto this and meeting with investors in New Orleans. There's also another pilot I'm working on called Dead Exit based on a graphic novel.
If you don't start creating things on your own you will get left behind.
What tips do you have for indie film makers looking to have their work produced?
You have to find people who are going to do it the right way. There a lot of colleges out there, kids looking for talented people people to create a piece. Find actors that are willing to take very little money or no money to create something great, submit it to some festivals. That's how it's done these days. A lot of things that are produced take way too much money and make
very little money. I don't know how it keeps going on.
The thing that Hollywood is doing incorrectly is thinking that they are going to make a lot of money if a large name is attached and it's not happening. It hasn't been happening for the last 10 years. Im not waiting for them to wake up about it anymore. I'm just going to do my thing and make some great movies.
That's the one thing you can do is create great content and someone will buy it from you.