3 DIY Camera Dollys You Can Make At Home
15 December, 2016
0 Comments
---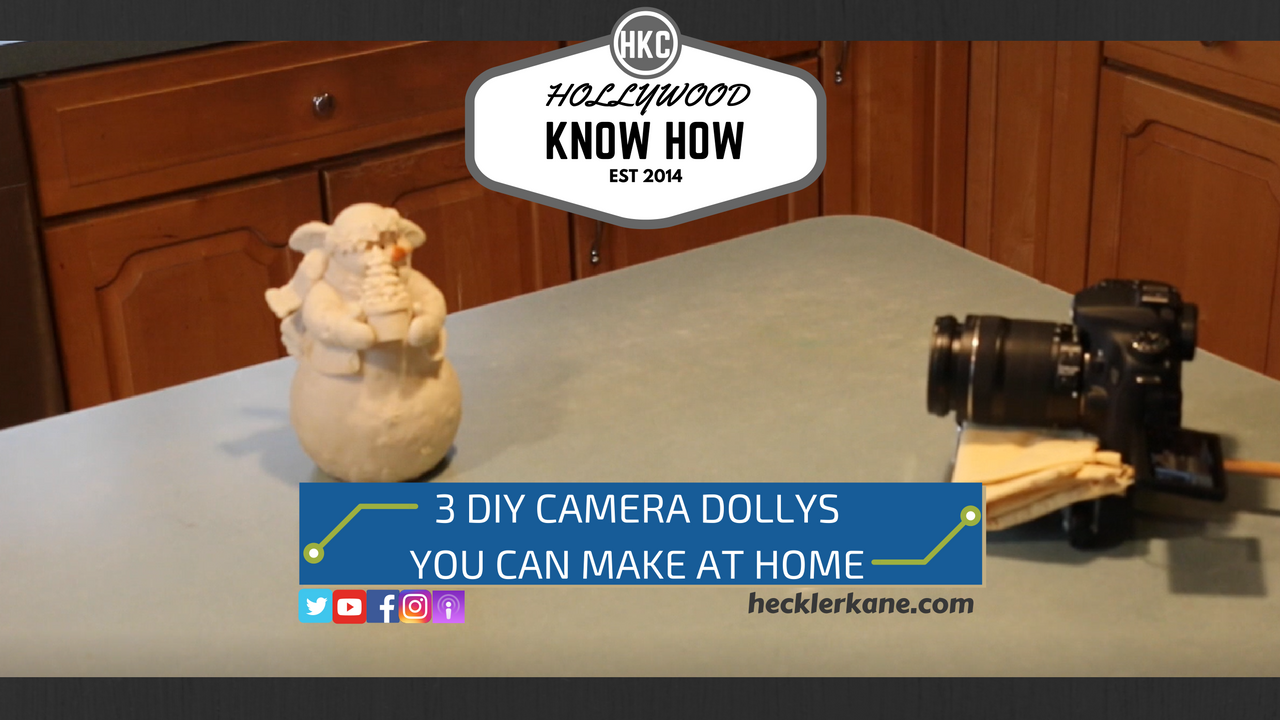 Why You Need a Camera Dolly
A camera dolly is essential for getting a smooth shot while moving the camera in any direction. The dolly allows the camera man to get a steady shot without actually touching the camera with his shaky hands.
Unfortunately, not every film maker can afford an expensive camera dolly to achieve cinematic greatness. A pro rig could run you over $5,000! What's an indie film maker to do?!
Can a homemade camera dolly really get you those cinematic shots you want? We'll leave that up to your film making creativity. Here are three easy ways to make a camera dolly at home with some supplies you may already have or are inexpensive to buy.
Have a creative idea for making your own DIY camera dolly? Leave us a note in the comments.
Getting Started
Before you shoot anything with your DIY camera dolly, a smooth surface is necessary. It's the only way ensure a good dolly roll. We used a linoleum strip with foam on the back. You can also use a piece of Masonite or anything that is flat. Any bumps will ruin your shot.
The DIY Stroller Dolly
A stroller dolly is as simple as it sounds. Using an old stroller, fold a towel and place it on the seat for support and to help aim the camera.
Next, lock the wheel in a straight position. The key here is to go slow and steady as you push or pull your stroller dolly.
Whenever you're doing any type of dolly shoot you need to make sure you move steadily.
Mini DIY Tripod Dolly
First visit your local hardware and pick up a little set of wheels in a tripod shape. Typically they are used for moving furniture. They should have soft pads on top that actually help protect the camera.
Next you'll need a dowel and an old rag. Placing the wheels down on a flat surface you can position the camera on top. To achieve different angles, you can use the rag to position the camera lens at the angle you want to get your shot.
Using the dowel, you can now guide the camera in any direction. The dowel will keep your hands off the camera. This setup is also great for use on a table or counter top to grab a closeup.
DIY Office Chair Camera Dolly
A rolling office chair is easy to find whether you're on the set or at home. First place the chair on a flat surface and seat the camera man or in our case, camera kid in the chair. Attach the camera to a folded tripod to keep your shaky hands off the camera. Next, place the base of the tripod into the seat for further stability.
You could have the steadiest hands on the planet but as long as you're touching the camera it shakes. It's human nature.
We hope you found these DIY Camera Dolly tips useful. We'd love to hear what you've used to make a homemade dolly. Leave us a comment or just say hi!