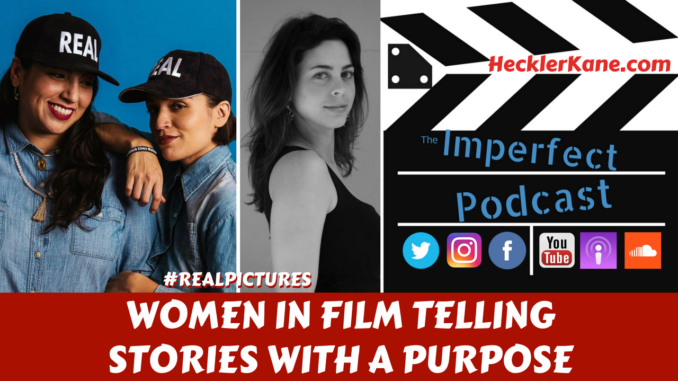 Download, Listen or Watch Women in Film Telling Stories with a Purpose

This week's guests on the Imperfect Podcast are the women from REAL Pictures and founder Jacqueline Real. The REAL Brand NYC is a brand built on humanitarian, forward-thinking ideals. Their first company launch will be REAL Pictures, a production house helmed by #TheREALSisters that produces provocative, female-driven films. Its premiere film will be 'The Drive,' written by Jacqueline Real & shot by Diana Matos.
Jacqueline Real is a native New Yorker as well as a working SAG-AFTRA/EQUITY actress. After a year of activism and volunteer work, she has finally focused her passions and launched the company The REAL Brand NYC. The REAL Brand NYC  combines her love of activism, volunteering, and film making.  The most recent film she produced, 'How Far' (2016), was featured at the New York Short Film Festival. For more info on Jacqueline's multiple skills go to follow her on IG @JacquelineReal!</
Jacqueline's sister, Nicole Real has worked in the film & television industry for almost 15 years, where she started as an intern on "The FBI Files" for the Discovery Channel and then later at Tribeca Productions; Robert De Niro's production company. She graduated from The School of VISUAL ARTS in 2004 with a bachelor's degree in cinematography and later met a group of filmmakers who led her to work with Glass Eye Pix "one of the indie scene's most productive and longest-running companies." – Filmmaker Magazine.
Also feature in this weeks interview is Diana Matos, who is a New York based Director of Photography working regularly in LA and Miami. Once a Local 600 camera assistant, her credits include: The Amazing Spider Man, The Bourne Legacy, R.I.P.D., Winter's Tale, The Other Woman, Annie and Ricki and the Flash. Prior to working on set, she was a technician at Panavision NY and is a graduate of the University of Miami. Talking to Diana about film gear was a real treat. Hell she even owns owns an Arri Alexa Classic with High Speed License!
Diana has shot with an Arri Alexa, Super 35mm film, S16mm, RED Weapon, Dragon, Epic, Scarlet, Canon C300/C500, HDCAM, and HDV on several webisodes and short films, including the award winning Latin-American film, A Dual Citizen. Of Nicaraguan and Puerto Rican decent, Diana is on the road to being a lead female cinematographer. Her most notable works include: A New York Love Affair, The Silence, Bait: or Trapped by the Truth, The Groundskeeper, and Ghost Ride.
To see Diana's work in action visit her website: http://dianamatosdp.com/
Get involved and support indie film with #TheREALBrand kickstarter https://www.kickstarter.com/projects/therealbrandnyc/therealbrandnyc
Watch the Full Interview About Women in Film Telling Stories With A Purpose
Highlights: Women in Film Telling Stories with a Purpose
How did you all meet prior to Real Pictures?
We met on a small project. It was a TV pilot the second episode and we met Nicki through that and Nicki was directing. Jacqueline was acting in one of the scenes and fell in love with Diana. I've been on a mission to find all the fierce females right now and Diana was definitely one of them…. I sent the script to her to get some feedback and Diana was like we should shoot this. That's literally how we met and that project was only 8 months ago.
When did you create the REAL Brand company?
So I was in LA feeling Jaded because of the business there and how women get treated especially actresses. The first film that Nicki and Jacqueline did together was "How Far" and it was really just Jacqueline's own expression of getting a project completed. The people in my life were heavy hitters and I wanted to see a completion from A to Z. Now that I found a very particular voice in writing, now we would like to take Real Pictures to the actual level of a female driven production company. With Jacqueline's year of activism work it's going to be a production company that focuses on certain social injustices that we feel need to be highlighted.
Now that we want to take that to the next level is was not even a question when Diana said we should shoot this. Diana thinks it was a year or two ago Jacqueline came to her working on separate projects. Nicole went to film school and was working with Robert Deniro at Tribeca Productions and Tribeca Film Festival seeing people do all these things and being like I wont have the money for this and Jacqueline said listen lets just try it and see what happens. Producing with Jacqueline it just worked.
Tell us about REAL Pictures first film 'The Drive'
I hate to say that it is a film on police violence because it's not at least for Jacqueline. It's exposing another side Jacqueline feels people are not talking about. Where are all the good cops, where are the ones sticking their necks out to make sure that they are doing what they're supposed to do, which is protect and serve the people. The way that we've seen this topic is through very heavy images and peoples cell phone footage on Facebook and it's all in our face. So that's been all a part of the research and Diana trying to come away from it to say, "Alright, cinematically how are we going to do this justice?" Diana has brought lots of questions and suggestions to the table for Jacqueline. Diana thinks "our limitations turn into opportunity for creativity". We always keep talking about how are we going to do this justice? How are we going to make this something that moves people because we've gotten detached from our humility and that's the biggest thing that we are focused on, At the end of the day we are all just people and we could all get on that level and have heart felt discussions on these issues. In this script everybody has a voice and everyone has a reason why they function the way they function.
Diana, what medium do you enjoy working in?
I love working on films that have something to say. Diana has worked on big features and TV shows but it was all about experience because if she hadn't she wouldn't have worked with and learned from the greats. Diana says it's not about the money it's about what you're going to say, it's finding who you are and finding those film makers that support that. At this point in my career it's about moving forward with the stories that reflect who I am and I can support, enhance and tell the world about these things because people need to know.
Why do you like shooting on the Alexa EV?
I come from the film days and felt that the Alexa was the first camera that really convinced me to come off of film into digital. I had some money saved and said to myself "okay, it's either a house or a camera and that was the decision that I made. I still think it was worth it."
What are your plans for distribution?
We are going to stay strictly festival. This is really going to put us out there as a female driven company. This is really going to be our launching point to show people who we really are. We want the film 'The Drive' to be our business card.