How to Survive & Thrive As An Actress & Comedian
4 December, 2017
0 Comments
---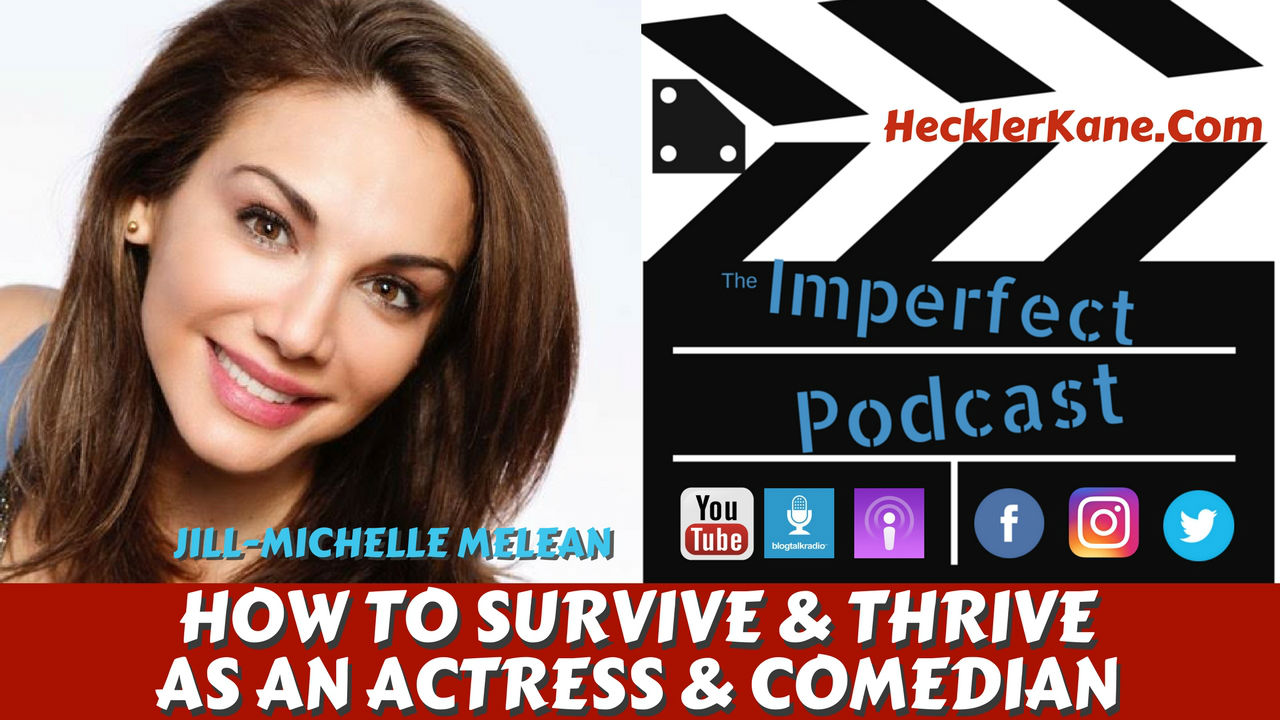 This week's guest is actress and comedian, Jill-Michelle Melean was introduced to us by our good friend Alex Ferrari of Indie Film Hustle. Jill is known for her work on the sketch comedy show MadTV where she had memorable moments impersonating Hollywood stars such as Drew Barrymore and Britney Spears. You may have also seen Jill in Comedy Central's Reno 911 and most recently in This is Meg which she co-produced and wrote with Alex Ferrari.
We talk about Jill's family life growing up in Miami, her transition to Hollywood and her worst moments as a female comedian. She's held her own on the road with the big boys of comedy such as Carlos Mencia and has a unique perspective as a white latina. Look out for her 1 hour comedy special, called White Latina coming soon.
Follow Jill-Michelle Melean Online
Website: http://jillyonline.com
IMDB: http://www.imdb.com/name/nm0577549/
Instagram: https://www.instagram.com/jillyonline/
Twitter: http://www.twitter.com/jillyonline

Jill-Michele Melean's Background
Jill grew up in Miami with a strict Latin upbringing.
Fun fact: Jill and her family were season pass holders for the Miami Hurricanes football team.
She fell in love with TV & film at an early age but she had no idea how to get there.
Jill realized she could make her Grandma laugh by humping her leg at an early age
Not attending college wasn't an option for her.
During college she thought she wanted to be in theater but soon realized film was where she flourished by creating a family for a few months and nothing is ever the same.
Jill believed in the power of laughter and moved to LA without knowing anyone.
Making the Cast of MadTV
Jill's advice to those that want to do comedy is go to Second City in Chicago because now it is like going to University.
While doing stand-up comedy for a year and a half the folks at MadTV would follow her shows. At that time, female comics weren't a big thing.
She wanted to audition for a sketch group when she got to LA but she had to pay her dues first.
Every time she would go back and audition for MadTV it would be like doing a one person show for an hour including impersonations.
When she landed the part on MadTV it took 6 auditions that resulted in an on-air test where she did Drew Barrymore and Britney Spears and they made her a cast member immediately after.
"Welcome to Hollywod!" Jill recounts having to get down to a skimpy outfit in her first role on TV.
Life after MadTV
After MadTV Jill landed the Latino Locos comedy tour with Carlos Oscar, Ralphie May and other big name comedians.
She hosted the tour and learned from them really developed her time.
From there Jill landed Reno 911 where she met Carlos Alazraqui who she became brothers with on and off screen. You can catch Carlos in This is Meg as well.
Jill was lucky to go from one tour to the next during that time for 7 years doing hardcore theaters.
Jill also talks about her time working with George Lopez on Reno 911.
Surving in Hollywood is hard work
Going over notes for a pitch recently Jill had to remind herself how grateful she should be for the position she's in.
She's never satisfied and still hungers to get to the next level. You're never going to be done.
The game has changed and it's going to change again. Either you change and keep playing or you get out.
When she booked MadTV, she thought she'd be done. The reality is you book a TV show, then you don't work for 5 years.
Jill has done multiple pilots that haven't been picked up, even with the producers from Curb Your Enthusiasm behind it.
The future of Hollywood
"It's the craziest industry to get into, but it's also the most rewarding."
Even though there's more outlets, it's actually made it harder. You can't centralize the marketing.
Jill believes a shift is coming and after a attending an industry meeting recently they had the following to say: "Comedy is the only thing that has longevity. Comics have a strong clear voice…That's where TV shows are created."
Advice for females in comedy
Link up with a bigger male comedian so it doesn't become an all female show.
Bookers like to promote the "sexy female" comedy show but that's not where you want to be.
Open up for a bigger male comedian and then it's easier to transition later because all the bookers know you. Hold on to their business cards because you will have to network yourself.
This is Meg
This is Meg is streaming on Hulu and is also available on Amazon, iTunes & YouTube.
It was a passion piece based on true events.
Jill wanted to portray what it's like to live as an actor in Hollywood and the relationships you experience, not just the business.
Involving her friends was important and there was no drama on set.
Normally directors will not let a producer be that involved, but Alex Ferrari was able to put his ego aside and get the best shots possible.
Her First 1 Hour Comedy Special
Jill has done specials for Showtime and other networks but White Latina will be her first 1 hour comedy special.
Piggybacking off This is Meg, she wanted Alex to shoot the special at The Improv to keep it personal.
Hearing her discuss how it's shot and her decision to not show the audience is especially an interesting point. In comedy, it's all about material.
Comedian's that inspire
Going back to her love for TV, Jill loves the work of Carol Burnett, Tracy Ullman and shows like the Golden Girls.
Jill also loves the stand-up of Ellen Degeners, Richard Pryor and George Carlin.
We also discuss her love for Louis CK and says he's the kindest man and was completely shocked by the news circulating today.
Tags:
actress
,
alex ferrari
,
comedian
,
comedy
,
hollywood
,
indie film
,
indie film hustle
,
screenwriter
,
women in film