This is Meg, Making Money With A Micro Budget Film with Alex Ferrari
16 October, 2017
2 Comments
---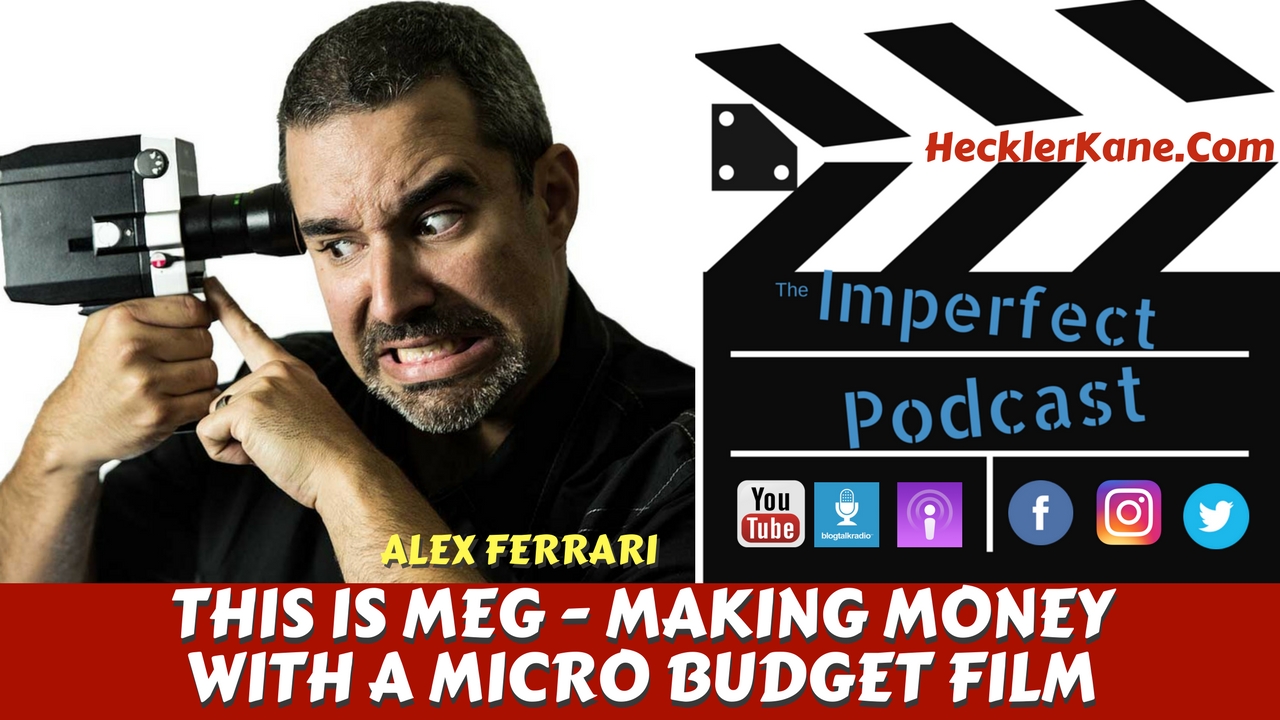 This week's guest is your humble host, Alex Ferrari, known for his film making blog and podcast Indie Film Hustle. With his 20 years of experience in the industry Alex dishes the straight line on making it in the film business. He shared his experiences with us as a film maker, making the rounds at every film festival imaginable and why film festivals may or may not be a good idea for film makers. This year he put his money where is his mouth is and shot the micro budget feature film This is Meg starring Jill-Michelle Melean who also co-wrote the film with Alex.

Indie Film Hustle Roots And Why Alex Started the Popular Film Making Blog
Alex talks about escaping Miami to Hollywood and cutting his teeth as an editor. Remember what cutting ¾" tape was like?
He talks about running garage sales as early as the age of 10 and walking around with a wad of cash
Listening, watching, reading for a year Alex studied the business of an online business, creating content and SEO
His rise was quick his content on Indie Film Hustle was resonating because Alex wasn't afraid to tell filmmakers the truth.
Providing value is his number 1 priority because he was tired of seeing filmmakers get beat up and ripped off in the film industry.
Where do You Find Time To Create That Much Content?
Alex admits he has 150 unpublished blog articles and 50 videos just waiting!
"There's a lot of time in the day"
Over the course of 2 years he's learned how to process all of the content efficiently. Alex says he can put together a podcast in 2 to 2.5 hours.
If he didn't have a family, Indie Film Hustle might be even be bigger.
Alex puts in 10 to 12 hours a day and rarely works weekends. When he does work, Alex says he's efficient. He stops every day at 6:30.
Ask most high achieving entrepreneurs and they'll admit what Alex did to us. He says, "I feel like I'm a slacker, I feel like I'm not doing enough. I feel like I could do better, like I could do more."
How Do You Feel About Film Festivals For Film Makers?
Alex has been to every film festival you can imagine totally upwards of 500 festivals including Sundance.
Quote: "If you've never gone through the experience, it's magical. The first time you go to a festival and see your film projected, it's the most amazing thing ever."
When do you that 500 times and spend a lot of money you realize what its worth.
Alex doesn't like the cost to many film festivals and feels like they are ripping off the film makers.
After spending $1000 on 35 film festivals he learned how to get into festivals for free and his movie Broken ended up in 150.
If you live in a small town, do it every year because it's the only place you are going to connect with other local filmmakers, producers & investors.
Watch the Interview with Alex Ferrari on YouTube:
Sundance Film Festival: Alex recounts his experience
His first time at Sundance he had just finished Broken and walked around with a laptop asking people if they wanted to watch a movie
Sundance was like Disneyland. He would just take pictures with every celebrity he could.
Name dropping time!!
What is your opinion of The American Film Market?
This is Meg is going to be screened at The American Film Market
Alex has been to AFM once before but this is the first time he's heading upstairs with the big boys.
Right now AFM is still the way to do international sales. It's all about relationships.
Quote: "You can sense that energy when somebody comes up to you and they just want to take and suck from you."
The bottom line is give more than you get.
Where did the concept for your feature film This is Meg start?
Watch This is Meg on Amazon
Find out what a scriptment is and why film makers use them.
Alex was tired of waiting for permission to make his first feature film.
He called his co-producer Jill-Michelle Melean and said, "I wanna make a movie and we are gonna do it this way and this is story I want to tell. I wanna tell your story as a comic and actress who is not 21 anymore and who's been a little famous but is not a household name and what it's like for you."
1 week later Jill had a scriptment for This is Meg, 3 days later they locked up the cast and were shooting a few weeks later. This is Meg was shot in 8 days total over 6 weeks.
Alex talks about how much he loved the process because he put absolutely no pressure on himself about the outcome of the film. And never even shot more than 6 to 8 hours.
This is Meg was the most effortless project he's ever been involved in.
What the trailer for This Is Meg
What was the distribution plan for This is Meg?
Alex admits This is Meg is a dramedy that's may not be for everyone.
We have wonderful actors that you'll recognize but we have no bankable stars.
I created a lot of content around the process of making it so I'd be able to sell it to my audience which brings in revenue.
I made a relationship with Distribber to be able to self-distribute the film which can now be seen on Hulu, iTunes, Amazon, YouTube, Google Play & Vudu.
Oddly enough, it sold to China, South Africa and have a pending UK deal. Little by little it's made some money and was a great proof of concept.
If you don't have an audience there's no point in self-distributing with something like Distribber.
Alex made a movie within the resources that he had. A lot of filmmakers become too ambitious too early.
What did you shoot This is Meg on?
Blackmagic Cinema 2.5k https://www.bhphotovideo.com/c/product/855879-REG/Blackmagic_Design_BMD_CINECAM26KEF_Cinema_Camera.html
Mastered in 1080p (you do not need to master in 4k)
Edited on Davinci Resolve https://www.blackmagicdesign.com/products/davinciresolve/
Indie Film Hustle Episode Recommendations
Watch Love to Paradise on Amazon
Watch Blood Sand and Gold on Amazon
Watch The Director's Series on YouTube
https://www.youtube.com/watch?v=jtBderQpMjs&list=PLHw-MoPtkleeOcuaZAXVNHOh5M5EfWLaW
Tags:
#supportindiefilm
,
alex ferrari
,
feature film
,
film festival
,
filmmaker
,
filmmaking
,
imperfect podcast
,
indie film
,
indie film hustle
,
micro budget film
,
sundance film festival
,
this is meg