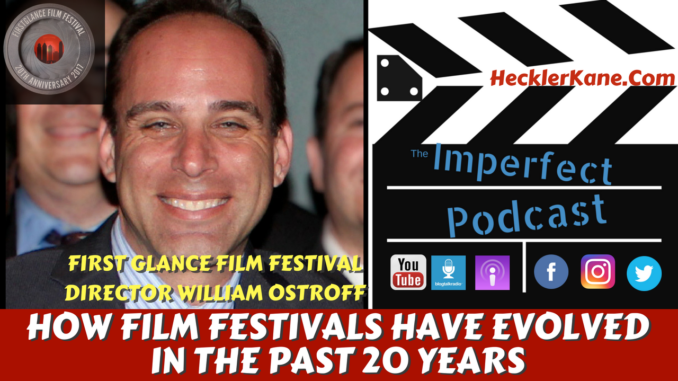 This week's guest is Bill Ostroff, the First Glance Film Festival Director who tells us how indie film festivals have evolved in the past 20 years. Bill shares his insights on festival submission trends, storytelling, camera technology and most importantly marketing. First Glance Films is the creator of the hashtag #SupportIndieFilm that has engaged and united thousands of indie film makers around the world.
William Ostroff, the FirstGlance Film Festival's creator and director, is a Producer, Independent Media Consultant and DGA Assistant Director who has worked on over 100 film and television productions. He graduated from Temple University in 1993 with a degree in film and video and has since worked with major studios such as Disney, Warner Bros, Universal, Dreamworks, and Paramount on feature films and television series.
As the FirstGlance Film Festival Director, he has produced 37 film festivals to date, has watched over 20,000 indie films and is hands on with programming and decision making of all aspects of the Film Festivals. In 2013, he created the World's Largest Traveling Comic Con Film Festival, which has screened genre indie films to over 5 million attendees over the 1st fours year in 2 countries, with plans of taking this concept global.
Submit Your Film to First Glance Film Festival: http://firstglancefilms.com
Follow First Glance Films on Twitter: http://twitter.com/firstglancefilm

When did you start the First Glance Film Festival?
This is our 20th in Philadelphia. We've been doing this since 1996. I wanted to work in movies and I had started the film festival right out of college. When I moved to Los Angeles to make movies I said I'd try to keep the Philly thing going and I did and then I was in LA and said we may as well do one here too.
How has the film festival evolved since you started the First Glance Film Festival?
When we first started it, we would screen on projectors that would run reels of celluloid. Having to mail those back and forth would be very expensive. We would cut and paste our program, literally, cut and paste with Elmers glue and tape. We actually advertised in newspaper and when we started we were pretty much the only independent film festival in Philadelphia. There was no one else here. At the time there was the Festival of World cinema which turned into the Philadephia Film Festival. It's funny to me because the Philadelphia Film Festival says its 25 years old but it's not. It's only 5 years old because it used to be the Festival of World Cinema which forced us to change our name.
I don't think people really get confused between us and them. We are the Slamdance to Sundance. We are the separate indie arm and don't get mistaken. It would be nice if a big sponsor would.
Where has the First Glance Film Festival progressed to?
It used to be interesting because every year I'd have to go to IKEA to add to the shelves for the VHS collection. Then the VHS collection turned into the DVD collection. Now almost the entire screening is on a thumb drive. Between DCP's and thumb drives I figure in the next couple of years we will figure out to stream directly to the projectors. The problem is because we're an indie film festival we don't always use state of the art venues. We try to use venues that have great screens and sound but may not be up to snuff with major corporations.
How did you come up with the idea for First Glance Film Festival?
When I was at Temple University I started a theater company with three friends of mine and I was kinda the behind the scenes guy saying we should do something film. I started brainstorming and looking at the film festivals that were around. Sundance was always one that I wanted to go to or have my film in and then Slamdance came. I said to myself I need to come up with something that has a feel like Slamdance or Sundance so we don't just call ourselves the Philadelphia International Independent Film Festival of America. In my mind and most filmmakers know, the longer the title of the film festival, probably the smaller the venue or they don't actually exist.
I had a couple of films in school and tended to make things more commercial than the professor wanted. I always seemed to lose out to the slow motion opening of the petal of a flower. You know I'd really like to show my stuff to people instead of classmates. The venue we were showing musical theater in was an underground space. I just decided I have 3 short films I'd like to show and put ads in the newspaper and made flyers and we ended up with about 30 films. This way I didn't feel like it was my film festival it was their film festival. We screened for 3 nights and I thought that was going to be it.
People started calling and emailing and asking and we continued. I've kept continuing now 20 years later. As of next week I'll have produced 37 film festivals and watched 18,000+ films. As a festival director I have and will always watch every single entry. I also have a screening committee I pull together. If it gets by me then I drop it into their boxes and have them watch a percentage of the films and grade them.
One of the things we do different. I want my screeners to take their jobs seriously. I don't drop 100s of hours of film on them. They may watch 15 to 20 hours of film over 2 months. It's not their job. The pre-screening committee and myself do nominations in a whole bunch of categories and we actually do them. Speaking of Film Freeway there are lots of scam festivals that will take your money. It may only be a $5 entry fee but they aren't really watching your film and then you get an award for Best Costume Design and you're like huh?
Don't Miss The First Glance Filmmaker Roundtable with Dave Bullis
How has marketing the First Glance Film Festival changed?
One of the things I've always realized was we are not a huge film festival. We are a weekend independent film festival. Social media has been huge for us. I've learned how to use social media quite well including Twitter and Facebook. It's not only how we cultivate filmmakers but we also teach them how to market. If you ask any of our alumni filmmakers, from the time of acceptance we will get to them and say here's some of the things you need to do to market your film. People aren't going to come to your film if they don't know it exists. I want to educate people. A lot of filmmakers aren't very good at marketing.
My goal when I was a filmmaker was I yes I want to have a film festival, I want to show my film but I want as many people to see it as possible. How do I make that happen? Before the internet the only way you could do that was call or invite people, make flyers or postcards. What I did was as I was learning Facebook and Twitter I would create a Facebook event and invite everyone. It was us working really hard doing it ourselves.
As we started to grow I knew if I could educate the filmmakers to use Twitter 1/10th as well as I do then they'll be able to promote. Even if they can't get people to First Glance if that's their first showing, by the time they finish their festival circuit they'll have full rooms and will have their audience. It's one of the few ways you can build an audience without really spending. You have to spend time but you can build an audience.
When I came up with the idea #SupportIndieFilm hashtag this is when I noticed hashtags were sort of came into being. I noticed big companies like Pepsi using it. I need something to bring the community together to understand indie film is not the kind of indie film Hollywood is talking about made for $25 million and distributed by Sony Classics. LaLa Land is not an independent film.
We threw the hashtag out there and used it every single day. We have thousands of followers that have tagged #SupportIndieFilm in their profiles that use it every day. On average #SupportIndieFilm reaches 15 to 25 million people a day. In the last couple of years I've noticed big names starting to use it and companies starting to notice. I think we are on the cusp of something happening. There's a lot of true indie filmmakers that are making them for $100k to $200k that would sell it to break even. These big giant 20 screen multiplexes and walk in any day and only find 5 people. If these megaplexes would open up one of their screens to someone like me I could put a new project on their screen every day.
What do you look for when screening independent film submissions?
Look at our alumni films on YouTube and watch the trailers. You'll see a wide variety of content across genres. I've always been someone that enjoys all types of entertainment. I look at things for the production value, acting, sound, cinematography. A lot of people will ask if only accept film shot in a certain medium and it's not about that. It's about the storytelling. It could be shot on an iPhone and if the story is good and the acting is good and the sound is decent then there is no real criteria other than will an audience enjoy this film in some way. Will you laugh, will you cry, is this a great short film or cutest animation I've seen. Is this web series different or original?
When you have a finite amount of time to program it's hard. I don't think a lot of people have the knowledge I have. Watching the amount of film I have, I have an eye for it now. I get it, every filmmaker wants to be in a film festival. That's why film festivals keep popping up left and right. Eventually your film will end up somewhere. Will it end up in First Glance? I don't know. It depends on the other entries that come in and do we have the time? If it's a 7 minute short film, it may be a better opportunity. If it's a 109 minute feature film, it better be good. When we screen, we never screen just one film. We screen a program.
Do you see any trends in film festival submissions?
It's cyclical. Because technology has made things easier and affordable, I think we are seeing more SciFi and Horror. We are seeing things that are extraordinarily topical. Back in the day when you would shoot on film and edit, if it's an indie film it could be 2 to 3 years old before it went to festival. We are finding a lot of interesting voices and filmmaking. People are using all types of instruments to shoot.
We even get people who say they'd like to show their Virtual Reality film at the festival and we don't have the capability to make that happen yet. The theater we are in isn't going to be able to provide 200 headsets. We tried to do 3D a few years ago and it just didn't pan out. It's a hard process and I think VR is in that same position. I couldn't even watch that Hardcore Henry that came out a few years ago.
Every year it changes depending on the mood of the country. It's interesting to me. The genre stuff is great and the production value seems amazing and they'll go after the production value and special fx but the acting is subpar. As a filmmaker and festival director, one of the main things they should look at is getting the right actors before they shoot. If you have to postpone a bit, unless your grandmother is Jane Fonda don't cast your grandmother in your movie. I understand with time and money but with the magic of editing, you don't have to shoot grandma at the same time.
I think the trend is also people want to use the most high tech cameras and that doesn't matter either. I'm looking at the story and I don't mind if it's gritty when it calls for it. I'm not dead set on a certain criteria for anything. I can pretty much enjoy anything. If it gets by me it goes to the screeners for the nominations and we go from there. As a backup we usually do a short online contest that runs for 30 days to give the opportunity to other filmmakers and the winner premiers at the next First Glance Film Festival.