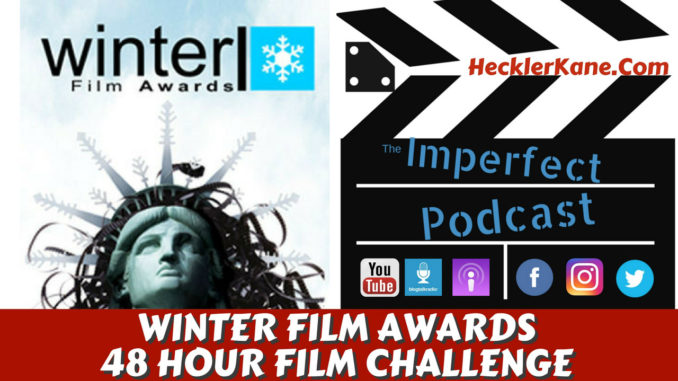 On this week's Imperfect Podcast, we talk about our experience at the 2016 Winter Film Awards 48-hour Film Challenge. There were 21 teams chosen to demonstrate how well they could create a 2-7 minute short film based on a given genre, tag line, and a prop. Each team was called into a conference room and asked to pick a genre out of a hat. The genres were Horror/Slasher or Monster, Romance or Comedy, Martial Arts or Super Hero, Buddy film/Chick flick, Spy/Cop, Zombie/Musical, Science-fiction, Western, Thriller/ Suspense or Film Noir.
The tag line for this year's 48 hour film challenge, which every group had to incorporate into their short film, was the following quote from Oscar Wilde: "This is New York and there's no law against being annoying." The last requirement and most challenging was the prop, Grand Central Station. Each group was issued a permit to film in that location for 1 hour.
We discuss the difficulties inherent in a challenge such as this as Heckler Kane Creations was one of the participating teams. Here are all the films submitted on YouTube.

Find out more info about the Winter Film Awards 48 Hour Film Challenge on twitter @winterfilmawards
Watch Our Short Film The Drop Off
Us creative types can be really insecure and we need to know you care. Please Take some time to show us how much we mean to you. If you like what you see hit us up at Twitter, check out our behind the scenes at Instagram, and our YouTube is the best place to find all of our videos. If you don't like what you see, mamma always said if you cant say something nice…